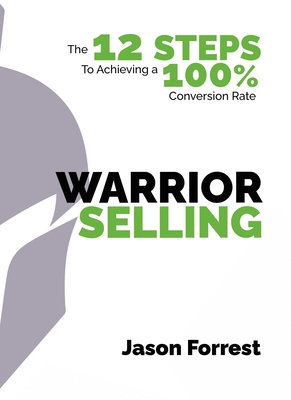 Warrior Selling
The 12 Steps to Achieving a 100% Conversion Rate
Hardcover

* Individual store prices may vary.
Description
The only sales process you'll ever need

In Warrior Selling: The 12 Steps to Achieving a 100% Conversion Rate, sales guru Jason Forrest gives sales professionals the process, mindset, and persuasive language they need to find their inner sales warrior. The author reveals his unique 5-4-3 methodology to help sellers cocreate the highest conversion rate script in their industry and eliminate the inconsistency in their results.

Forrest, leader of Global Guru's #2 Sales Development Program, is a master practitioner of neuro-linguistic programming, the science of influence and behavioral change, and a practitioner of accelerated evolution, the psychology of removing fear in high performers. Both inform his Sales Warrior method, which gives a repeatable playbook to effectively understand a customer's mission, present solutions, and resolve the sale, regardless of what kind of environment the prospect is in.

The Sales Warrior leads, protects, and serves the customer on their journey to certainty and life improvement. Warrior Selling provides the beliefs, foundations, and process to become that top 1% of the sales force.
 
Praise For Warrior Selling: The 12 Steps to Achieving a 100% Conversion Rate…
"FPG has trained hundreds of seasoned sales professionals between Myers and my prior company.  The Warrior Selling 12 Step Process was a key difference maker—Warrior Selling helped drive the EBITDA to record levels at both companies. I strongly recommend and endorse Warrior Selling!"
—Michael McGaugh, CEO, Myers Industries
 
"I ran big businesses at Procter & Gamble and can tell you that Jason Forrest has a selling process that will deliver big results. It's a multi-step manuscript for closing...the...deal...in any context, no matter what you sell, or how long you've been selling. It's backed with research, not rhetoric. It's insightful, not obvious. Pick it up and lay down the best sales year you've had yet."
—Scott Mautz, author of Leading from the Middle: a Playbook for Managers to Influence Up, Down, and Across the Organization

"The problem with so many sales books today is they are not tactical and relevant to give you an edge over your competition. Warrior Selling disrupts that pattern and gives my team their exact process to win market share."
—Deb Marton, VP of Sales, Jones Homes USA
 
Skyhorse, 9781510774254, 240pp.
Publication Date: November 15, 2022
About the Author
Jason Forrest, CEO at FPG, is a leading authority in culture change programs and an expert at creating high-performance, high-profit, Best Place to Work cultures. As a sales warrior, author, speaker, and management coach, Jason's mission is to empower professionals and executives to unleash their human performance and psychologically master their inner abilities in sales, management, culture and service. The winner of five international Stevie Awards for his training programs, Jason is also an award-winning author of six books, including Leadership Sales Coaching, which rated as one of Selling Power Magazine's Top Sales Books. In 2018, FPG earned a rare honor by being named to the Inc. 5000 Fastest Growing Private Companies list for the third consecutive year, making FPG the nation's fastest-growing sales training company. With more than a decade of coaching and speaking experience, Jason Forrest is a member of the acclaimed National Speaker Association's Million Dollar Speaker Group, as well as The Entrepreneurs' Organization (EO), the world's only peer-to-peer network exclusively for entrepreneurs.