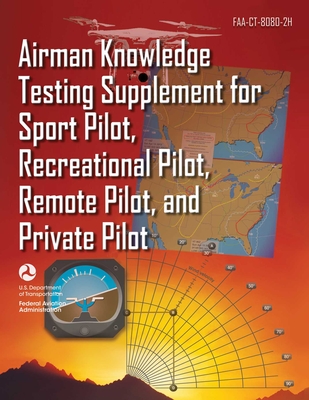 Airman Knowledge Testing Supplement for Sport Pilot, Recreational Pilot, Remote Pilot, and Private Pilot (FAA-CT-8080-2H)
Paperback

* Individual store prices may vary.
Description
THE DEFINITIVE TOOL FOR AIRMAN KNOWLEDGE EXAM STUDY IN 2023, DEVELOPED BY FAA EXPERTS
This testing supplement was designed by the Federal Aviation Administration (FAA) Flight Standards Service and intended for use by Airman Knowledge Testing (AKT) administrators in the following knowledge areas:
Sport Pilot: Airplane (ASEL and ASES), Gyroplane, Glider, Airship (LTA), Balloon, Weight-Shift Control (WSCS and WSCL), and Powered Parachute (PPL and PPS)
Recreational Pilot: Airplane (RPA), Rotorcraft/Helicopter (RPH), Rotorcraft/Gyroplane (RPG)
Private Pilot: Airplane/Recreational Pilot–Transition (PAT), Helicopter/Recreational Pilot–Transition (PHT), Gyroplane/Recreational Pilot–Transition (POT), Airplane (PAR), Rotorcraft/Helicopter (PRH), Rotorcraft/Gyroplane (PRO), Glider (POL), Free Balloon–Hot Air (PBH), Free Balloon–Gas (PBG), Lighter-Than-Air–Airship (PLA), Powered-Parachute (PPP), Weight-shift Control (PWS)
Unmanned Aircraft General: Small (UAG)
With dozens of full-color illustrations, diagrams, graphs, and charts, this testing supplement provides crucial tools for sport, recreational, remote, or private pilots in their knowledge exams and beyond.
Skyhorse, 9781510776906, 112pp.
Publication Date: February 14, 2023
About the Author
The Federal Aviation Administration is the national aviation authority of the United States. It regulates and oversees the aviation industry, pilot licensing, and airspace with the goal of providing "the safest, most efficient aerospace system in the world."