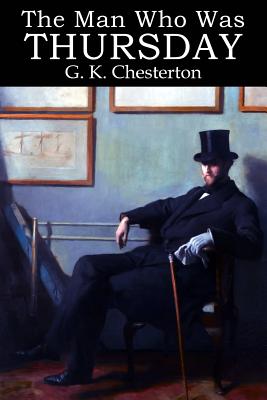 The Man Who Was Thursday (Paperback)
Createspace Independent Publishing Platform, 9781511693431, 122pp.
Publication Date: April 12, 2015
Other Editions of This Title:
Paperback (4/12/2013)
Paperback (4/24/2014)
Paperback (7/28/2018)
Paperback (7/17/2019)
Paperback (11/28/2017)
Paperback (1/13/2017)
Paperback (12/10/2012)
Paperback (7/25/2009)
Paperback (12/20/2013)
Paperback (3/18/2017)
Paperback (10/10/2016)
Paperback (9/19/2016)
Paperback (9/24/2015)
Paperback (10/17/2017)
Paperback (10/28/2017)
Paperback (10/19/2013)
Paperback (9/20/2018)
Paperback (1/29/2007)
Paperback (12/29/2017)
* Individual store prices may vary.
Description
"Shall I tell you the secret of the whole world? It is that we have only known the back of the world. We see everything from behind, and it looks brutal. That is not a tree, but the back of a tree. That is not a cloud, but the back of a cloud. Cannot you see that everything is stooping and hiding a face? If we could only get round in front--"
--- G.K. Chesterton, The Man Who Was Thursday The Man Who Was Thursday, A Nightmare
G. K. CHESTERTON (1874 - 1936)
In a surreal turn-of-the-century London, Gabriel Syme, a poet, is recruited to a secret anti-anarchist taskforce at Scotland Yard. Lucian Gregory, an anarchist poet, is the only poet in Saffron Park, until he loses his temper in an argument over the purpose of poetry with Gabriel Syme, who takes the opposite view. After some time, the frustrated Gregory finds Syme and leads him to a local anarchist meeting-place to prove that he is a true anarchist. Instead of the anarchist Gregory getting elected, the officer Syme uses his wits and is elected as the local representative to the worldwide Central Council of Anarchists. The Council consisting of seven men, each using the name of a day of the week as a code name; Syme is given the name of Thursday...
About the Author
G. K. Chesterton (1874 - 1936)

Gilbert Keith Chesterton, KC*SG (29 May 1874 - 14 June 1936) better known as G.K. Chesterton was an English writer. He wrote on philosophy, ontology, poetry, plays, journalism, public lectures and debates, literary and art criticism, biography, Christian apologetics, and fiction, including fantasy and detective fiction. Chesterton is often referred to as the "prince of paradox." Time magazine, in a review of a biography of Chesterton, observed of his writing style: "Whenever possible Chesterton made his points with popular sayings, proverbs, allegories-first carefully turning them inside out." Chesterton is well known for his reasoned apologetics, and even some of those who disagree with him have recognized the universal appeal of such works as Orthodoxy and The Everlasting Man. Chesterton, as a political thinker, cast aspersions on both Progressivism and Conservatism, saying, "The whole modern world has divided itself into Conservatives and Progressives. The business of Progressives is to go on making mistakes. The business of the Conservatives is to prevent the mistakes from being corrected.