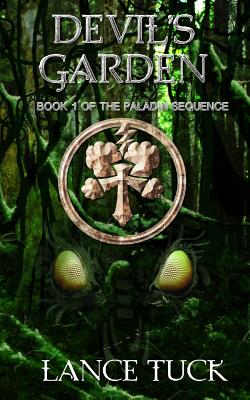 Devil's Garden (Paperback)
Createspace, 9781512045932, 246pp.
Publication Date: May 21, 2015
Other Editions of This Title:
Paperback (9/9/2016)
* Individual store prices may vary.
About the Author
Born in 1970, Lance Tuck was raised in the shadows of the Great Chalk Pyramids of Western Kansas. His formative years were spent exploring the fossil beds and ecosystems of the great plains, guided by his grandfather, a Navy officer and scientist who encouraged a rational, scientific view of the world around us. His grandmother and mother encouraged his appetites for the fantastic, teaching him about the mythologies and religions around the world, and the esoteric orders that forged the realities of history. The surprisingly effective public school system added the final elements that created the information processing systems responsible for the literary efforts you hold before you. His literary influences include Robert E. Howard, Lord Dunsany, H.P. Lovecraft, Frank Herbert, Michael Moorcock, Richard Adams and Stephen King. Alan Moore, Chris Claremont, Garth Ennis and Kieron Gillen have made significant impacts on his storytelling styles. His uncle Dan's comic collection spanned the sixties and seventies; his father's pulp novels from the forties and fifties were fodder for his imagination as well. Graduating from Kansas State University with degrees in Psychology and Anthropology led to a lifelong love of tattooing. Lance is a practitioner and instructor of tattooing in Kansas, and has been plying this trade for nearly twenty five years. And through all that time, there have been stories to tell. You might hear a verbal history of Ancient Egypt, or the Indus River valley, or maybe a classic multi-issue arc from one of his favorite comic series. He might perform a film, or, if you are very lucky, he might tell you one of his own. This oral tradition is what forged Paladin and all the characters from his world, as well as dozens of others. His first foray into professional writing is The Paladin Sequence.
or
Not Currently Available for Direct Purchase