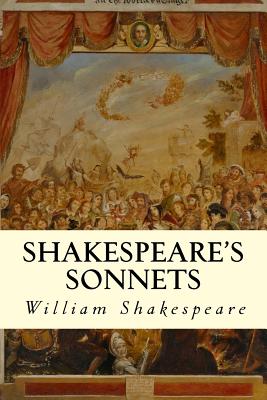 Shakespeare's Sonnets
Paperback

* Individual store prices may vary.
Other Editions of This Title:
Digital Audiobook (10/9/2005)
Paperback (12/4/2012)
Paperback (12/4/2012)
Paperback (8/8/2020)
Paperback (11/9/2020)
Paperback (11/30/2020)
Paperback (11/1/2008)
Paperback (2/24/2021)
Paperback (1/5/2014)
Paperback (6/22/2013)
Paperback (3/11/2016)
Paperback (11/24/2015)
Paperback, German (5/14/2014)
Paperback (6/22/2017)
Paperback (8/8/2020)
Paperback (12/6/2019)
Paperback (11/15/2020)
Description
Shakespeare's sonnets is the title of a collection of 154 sonnets by William Shakespeare, which covers themes such as the passage of time, love, beauty and mortality. The first 126 sonnets are addressed to a young man; the last 28 to a woman. The sonnets were first published in a 1609 quarto with the full stylised title: SHAKE-SPEARES SONNETS. Never before Imprinted. (although sonnets 138 and 144 had previously been published in the 1599 miscellany The Passionate Pilgrim). The quarto ends with "A Lover's Complaint", a narrative poem of 47 seven-line stanzas written in rhyme royal. There has been critical debate regarding its authorship. The sonnets to the young man express overwhelming, obsessional love. The main issue of debate has always been whether it remained platonic or became physical. The first 17 poems, traditionally called the procreation sonnets, are addressed to the young man urging him to marry and have children in order to immortalize his beauty by passing it to the next generation. Other sonnets express the speaker's love for the young man; brood upon loneliness, death, and the transience of life; seem to criticise the young man for preferring a rival poet; express ambiguous feelings for the speaker's mistress; and pun on the poet's name. The final two sonnets are allegorical treatments of Greek epigrams referring to the "little love-god" Cupid. One interpretation is that Shakespeare's sonnets are a pastiche or parody of the 300-year-old tradition of Petrarchan love sonnets; Shakespeare consciously inverts conventional gender roles as delineated in Petrarchan sonnets to create a more complex depiction of human love. 31] He plays with gender roles (20), comments on political events (124), makes fun of love (128), speaks openly about sexual desire (129), parodies beauty (130) and even references pornography (151). In a dozen of the sonnets to the youth, Shakespeare also refers to his "disgrace" 32] "My name be buried where my body is / And live no more to shame nor me nor you." Shakespeare's Sonnets can be seen as a prototype, or even the beginning, of a new kind of "modern" love poetry. During the eighteenth century, The Sonnets' reputation in England was relatively low; as late as 1805, The Critical Review could still credit John Milton with the perfection of the English sonnet. As part of the renewed interest in Shakespeare's original work that accompanied Romanticism, The Sonnets rose steadily in reputation during the nineteenth century. The Sonnets have great cross-cultural importance and influence. They have been translated into every major written language, including German, French, Italian, Japanese, Turkish, Spanish, Portuguese, Russian, Afrikaans, Esperanto, Albanian, Arabic, Hebrew, Welsh and Yiddish.
Createspace Independent Publishing Platform, 9781512125320, 124pp.
Publication Date: May 10, 2015