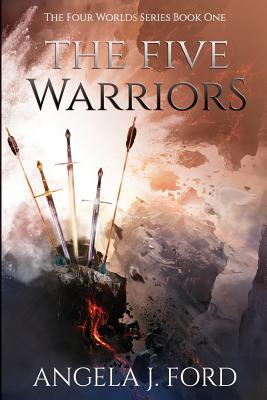 The Five Warriors (Paperback)
The Four Worlds Series Book One
Createspace Independent Publishing Platform, 9781512163612, 484pp.
Publication Date: August 26, 2015
* Individual store prices may vary.
Description
"The characters were well-written and well-developed, the story was clear and enjoyable without being predictable, and there were a couple of evenings I stayed up later than I intended just so I could get to the end of a chapter. If you're a fantasy fan, you're going to LOVE this " -Amazon review What if... your best friend started a rebellion in the middle of a war? your lover awakened a deep evil and helped it grow? your people were too cowardly to face a battle? you stole an ancient power source? you gambled with the fate of the world? Join five powerful warriors each with a unique ability and magical weapons. Their quest is to discover where the transformed creatures are coming from and put a stop to it. Along the way they run into treacherous immortals, sea monsters, powerful beasts of the air and talking animals. Each has their own reasoning for joining the quest, but one carries a deadly secret which just might be the destruction of them all. "Angela's imagination has brought these characters to life and the worlds they live in." -Amazon review
About the Author
Angela J. Ford is an imaginative and entertaining writer who creates stories of fanciful worlds that enable young adults to confidently believe in possibilities and overcome differences to be stronger together. Born in Ann Arbor, MI, and raised in Alabaster, AL. After high school, she moved to Nashville, TN, where she currently resides, to pursue a degree in Music Business at Belmont University. Although her career has not been largely focused on creative writing, it has been an integral part of her lifestyle. Brought up as a bookworm and musician, she began writing The Four Worlds, a fantasy action, adventure series at the age of 12. The storyline of those books was largely based off of creative games she played with her sisters. Originally finished when she was 16, after college, Angela began to re-write the Four Worlds Series, bringing it from a child's daydream to an adventure young and old alike can enjoy. Inspired by fairy tales, high magic and epic fantasy, Angela knows you'll enjoy your adventures within the Four Worlds. If you happen to be in Nashville, you'll mostly likely find her at a local coffee shop, enjoying a white chocolate mocha and furiously working on her next book. Make sure you say hello!
or
Not Currently Available for Direct Purchase