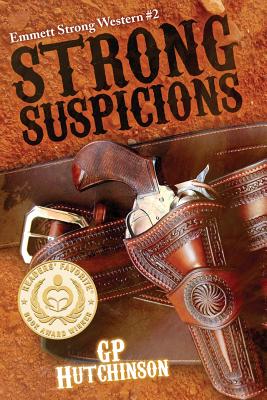 Strong Suspicions (Paperback)
Emmett Strong Western #2
Createspace Independent Publishing Platform, 9781512200225, 300pp.
Publication Date: March 7, 2016
* Individual store prices may vary.
Description
Strong Suspicions, the second Western by award-winning author GP Hutchinson, is a masterfully crafted barn burner of a story, certain to draw you in and leave you thirsting for more. After pursuing a cold-blooded murderer all the way to Nevada, Texas Ranger Emmett Strong is returning home to San Antonio-but not alone. He's found a girl he longs to marry. Finding someone to tie the knot for them is proving to be a challenge, however, owing to the fact that she's the daughter of Chinese immigrants. Along the way, there's a ruckus in El Paso's Wild Hog Saloon, and by noon the next day, folks are convinced it was Emmett and his compadres who robbed the saloon owner and beat him unconscious. They want Emmett on the end of a rope. Meanwhile, a bested enemy, set on revenge, hires the notorious fast gun "Three-Finger" Ned Cage to dispatch Strong, his amigos, and even his girl. When the only way out of trouble is to head smack-dab back into the middle of it-beautiful young woman in tow-a cool-headed pistolero like Emmett Strong becomes a force to be reckoned with. But will the vicious array of enemies prove to be too much this time, even for Strong?