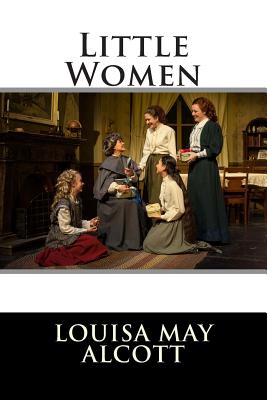 Little Women
Paperback

* Individual store prices may vary.
Other Editions of This Title:
Paperback (12/16/2016)
Paperback (10/13/2016)
Paperback (9/18/2018)
Paperback (11/3/2016)
Paperback (10/14/2020)
Paperback (7/29/2017)
Paperback (2/17/2017)
Paperback (12/9/2014)
Paperback (12/10/2013)
Paperback (6/12/2018)
Paperback (1/16/2018)
Paperback (8/6/2017)
Paperback (4/23/2020)
Paperback (1/25/2021)
Paperback (2/14/2017)
Paperback (5/3/2020)
Paperback (10/21/2020)
Paperback (5/8/2015)
Description
Jo, Meg, Beth, and Amy March are four sisters living with their mother in New England. Their father is away serving as a chaplain in the Civil War, and the sisters struggle to support themselves and keep their household running despite the fact that the family recently lost its fortune. In the process, they become close friends with their wealthy neighbor, Theodore Laurence, known as "Laurie." As the girls grow older, each faces her own personal demons and moral challenges. Jo, our beloved protagonist, must tame her tomboyish ways and learn to be more ladylike while pursuing her ambition to be a great writer. Meg, the oldest, must put aside her love of wealth and finery in order to follow her heart. Beth, the shy one, must conquer her bashfulness, while Amy, the youngest, has to sacrifice her aristocratic pride. The girls are guided in their personal growth by their mother, "Marmee," and by their religious faith. The family's tight bonds are forever changed when Meg falls in love with John Brooke, Laurie's tutor. Meg and John marry and begin a home of their own, quickly populated by twins Daisy and Demi. Another marriage seems imminent when Laurie reveals to Jo that he has fallen in love with her, but she declares that she cannot care for him in the same way. Jo goes to New York as the governess for a family friend, Mrs. Kirke, experiencing the big city and trying her hand as a professional writer. Meanwhile, Amy travels through Europe with her wealthy Aunt Carroll and cousin Flo, nurturing her artistic talent. Separately, Laurie goes to Europe accompanied by his grandfather. He pursues his passion for music and tries to forget Jo. While in New York, Jo meets German expatriate Professor Bhaer, whose intellect and strong moral nature spark her interest. Across the Atlantic, Laurie and Amy discover that they lack the genius to be great artists, but that they make an excellent romantic pairing. When Beth, who has never been strong, dies young, the sorrow of their loss solidifies Amy's bond to Laurie. Back in the States, Jo returns home to care for her bereaved parents and learns to embrace her domestic side. All the loose ends are tied up as Jo and Professor Bhaer marry and start a boarding school for boys, while Amy and Laurie marry and use the Laurence family wealth to support struggling young artists. The Brooke, Bhaer, and Laurence households flourish, and the novel ends with a birthday party for Marmee, celebrating the extended March family connections and the progress of Jo's boarding school, Plumfield.
Createspace Independent Publishing Platform, 9781512243253, 254pp.
Publication Date: May 16, 2015