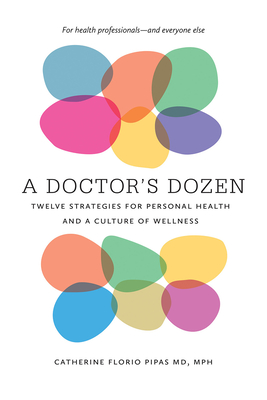 A Doctor's Dozen (Paperback)
Twelve Strategies for Personal Health and a Culture of Wellness
Dartmouth College Press, 9781512602999, 224pp.
Publication Date: September 4, 2018
* Individual store prices may vary.
Description
Burnout affects a third of our population and over half of our health professionals. For the second group, the impact is magnified, as consequences play out not only on a personal level, but also on a societal level and lead to medical errors, suboptimal care, low levels of patient satisfaction, and poor clinical outcomes. Achieving wellbeing requires strategies for change. In this book, Dr. Pipas shares twelve lessons and strategies for improved health that she has learned from patients, students, and colleagues over her twenty years working as a family physician. Each lesson is based on observation and research, and begins with a story of an exemplary patient whose challenges and successes reflect the theme of the lesson. Along with the lessons, the author offers plans for action, which taken together create the framework for a healthy life. Each lesson concludes with resources and a "health challenge."
About the Author
CATHERINE FLORIO PIPAS is a professor in the Department of Community and Family Medicine, Geisel School of Medicine at Dartmouth.
Praise For A Doctor's Dozen: Twelve Strategies for Personal Health and a Culture of Wellness…
"Her solutions are well thought out and documented, and should assist all health care workers with their self-awareness, self-care, and self-improvement issues. The book is a fast and interesting read that should be given to all health care professionals to remind them about the importance of mindfulness. Highly recommended."
 
— Choice
"In A Doctor's Dozen, Catherine Florio Pipas, MD, MPH brings her experience and that of 12 patients to provide 12 important strategies for health and wellness. . . . A gold mine of insight and good practical advice. . . . There are a few books that medical students, residents, and practicing physicians find the time to read that have a profound impact on the meaning one gets from the work of doctoring. This is such a book. I recommend that A Doctor's Dozen be dog-eared and on the bookshelf of anyone in family medicine education. You may need to buy multiple copies since you are likely to give it out to learners in distress."
— Family Medicine