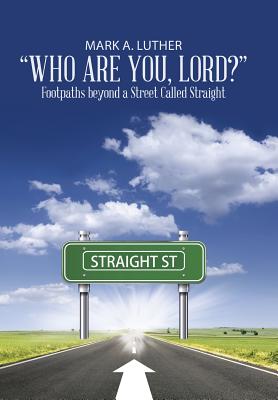 Who Are You, Lord? (Hardcover)
Footpaths Beyond a Street Called Straight
WestBow Press, 9781512720921, 274pp.
Publication Date: February 10, 2016
Other Editions of This Title:
Paperback (2/10/2016)
* Individual store prices may vary.
Description
"Who Are You, Lord?"--Footpaths beyond a Street Called Straight roots its message in the life-altering moment when Saul, the Pharisee and persecutor of Christians, encountered the risen Lord and found his life set on a new path of service to God. Author Mark A. Luther entwines the Bible's witness to the power of God to change lives with his personal story of redirection from addiction to discipleship. Along the way, he has crafted a testimony that opens the Scriptures, tells his own story, and invites the reader to discover how to ask the question of identity. "Who Are You, Lord?" reveals and describes the key markers of the life of discipleship: humility, surrender, submission, forgiveness, freedom, obedience, trust, and prayer. It also addresses a variety of themes of the Christian life: gifts, promises, and provision; trials and testing; comfort and joy; warfare and the enemy; sin and mercy; the Word and the Spirit; and worship and gifting. By immersing yourself in the rich treasures of the Scriptures and the moving narrative of the author's spiritual journey contained in the pages of "Who Are You, Lord?"--Footpaths beyond a Street Called Straight, you will find your own life of faith strengthened and your own spirit attuned to ask the question--"Who are you, Lord?"--and to listen for him to answer.
KIRKUS REVIEW
Debut author Mark A. Luther offers a memoir that's also a collection of meditations on popular Christian topics.
As the author explains in the introduction, "I am now, at age forty-five, a man who loves God above all else, because I am above all else loved by him." In the pages that follow, he tells of his time as a "raging alcoholic" and his eventual redemption through steady prayer and belief. He divides his sentiments into chapters with titles such as "Love," "Forgiveness," and "Trust," incorporating frequent biblical quotes and prayers as well as the sentiments of other writers, such as C.S. Lewis and T.S. Eliot. The book overflows with earnest guidance for the weary soul, aiming toward a simplicity backed by personal experience. The author asserts what it means to be Christian quite clearly: "living a life spent pursuing intimate, daily fellowship with Jesus Christ." Addressing whether human suffering is an expression of God's anger, he assures readers that "Trouble and hard times are not God punishing us." Love is paramount, he says: "Get out in the world and go love somebody; be the hands and feet of Jesus," he urges, later noting that "Nobody is beyond God's desire to love or his ability to use them."
For instance, a recovering-alcoholic friend found him drinking in his car when he should have been at work, moments like that illuminate this unique tale. Theauthor avoids any sort of holier-than-thou tone in this book, allowing it to offer a truly inspiring message. If turning to prayer could work for a man who experienced such a "series of 'Rock Bottom' moments," readers may think, perhaps it could work for anyone.
A heartfelt message about one man's embrace of Christianity.