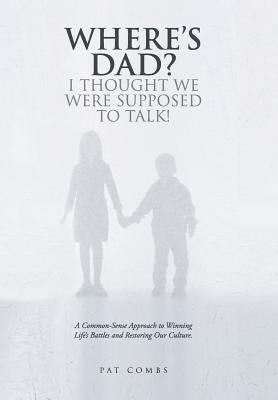 Where's Dad? I Thought We Were Supposed to Talk! (Hardcover)
A Common-Sense Approach to Winning Life's Battles and Restoring Our Culture.
WestBow Press, 9781512748741, 236pp.
Publication Date: October 27, 2016
Other Editions of This Title:
Paperback (10/27/2016)
* Individual store prices may vary.
Description
In this fast-moving modern world, an overwhelming number of fathers are missing from their families. Many of those who remain either do not understand their responsibilities or they simply ignore them. This is no small matter. Sons and daughters rely on dads to be the character-builders of the family--the ones who anchor the family and teach how to be individuals of integrity. Geared for youth, young adults, and parents, this guidebook provides practical knowledge that will help the reader confront the challenges of relationships and work while remaining devoted to Biblical principles. This guidebook helps young men and women discover family values. It also helps parents who want to share these values with their children. God gave mothers inherent abilities to nurture their babies. These abilities, combined with their wonderful gift of life, create mother and child relationships that exceed normal understanding. Girls, you have this very special gift; learn how to protect it and not abuse or diminish it. Worthy insights deliver valuable lessons about life, work, and faith. You will gain a positive perspective on how to confront important issues such as developing a character for success, understanding Biblical principles, re-establishing moral values, building family and other important relationships, preparing for and landing a good job, establishing a career, starting a business, understanding the free enterprise system, and securing financial freedom.