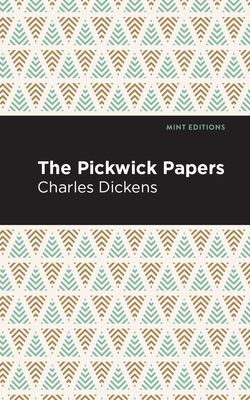 The Pickwick Papers
Hardcover

* Individual store prices may vary.
Other Editions of This Title:
Digital Audiobook (10/14/2007)
Digital Audiobook (12/13/2009)
Digital Audiobook (11/10/2014)
Paperback (1/21/2021)
Paperback (1/5/2021)
Paperback (1/8/2021)
Paperback (4/15/2021)
Paperback (5/9/2020)
Description
"One of my life's greatest tragedies is to have already read Pickwick Papers- I can't go back and read it for the first time."- Fernando Pessoa
"If I must choose only one Dickens then it's his first novel. It's wonderfully funny, kind and good-natured- just like dear Mr Pickwick himself."-Edwina Currie
In the picaresque series of sketches in Pickwick Papers, Charles Dickens wrote one of the masterpieces of comic fiction, and presented readers with some of the most colorful and beloved characters of all time. In Dickens' first novel, initially based on a series of illustrations, members of the eponymous club recount their various experiences and encounters as they travel around England. Without the dark themes that dominated so many of his novels, this is a refreshingly lighthearted and unabashedly fun read.
Charles Dickens was 24 years old when he was asked to write the text of a series of illustrations for publication of a serial in nineteen installments. At the center of the novel are the members of The Pickwick Club; notably the head of the establishment, Mr. Samuel Pickwick; he has decided, at the outset of the book, to organize a travel society comprising of four members. At the Pickwick Club the members will be required to recount their exploits in the English countryside. As they venture out, the four men become entangled with a dizzying array of mishaps; including failed romance, debtors' prison, judicial and social injustice, and mix-ups of gargantuan heights. Warm-hearted and thoroughly entertaining, this is a wild romp through 19th Century England.
With an eye-catching new cover, and professionally typeset manuscript, this edition of The Pickwick Papers is both modern and readable.
Mint Editions, 9781513220758, 782pp.
Publication Date: October 6, 2020