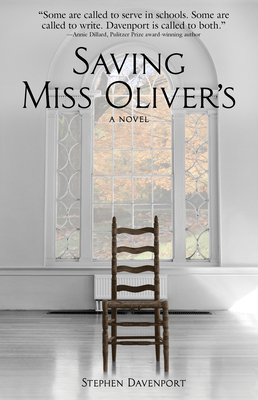 Saving Miss Oliver's
Paperback

* Individual store prices may vary.
Other Editions of This Title:
Hardcover (9/18/2018)
Paperback (1/1/2006)
Description
The fate of the beloved school is hanging in the balance. . .
From the very first paragraphs, Saving Miss Oliver's is an engaging read and is very highly recommended to all general fiction readers.
--Midwest Book Review
There are moments here that indicate that Davenport, who, as his bio notes, 'had a long career in education, ' was probably an excellent teacher, like a scene in which Francis explicates a Robert Frost poem with his class, and there are some wonderful students, like the head of the school newspaper who is conducting research about the sex lives of students. . . A book for anyone who's wondered about the inner workings and worries of a school administration.
--Kirkus Reviews
The prestigious boarding school Miss Oliver's School for Girls is on the cusp of going under. The trustees just fired the headmistress of the last thirty-five years, and the alumnae and students are angry and determined to hate her successor, the new--and male--head Fred Kindler. If only he can gain the support of the legendary senior teacher Francis Plummer, then Fred might have a fighting chance to save the school; but no one except Francis's wife and the school librarian, Peggy, is willing to give Fred a chance.
With Fred's career on the line and the Plummers' marriage at stake, will Miss Oliver's survive to be the school it once was.
Westwinds Press, 9781513261317, 386pp.
Publication Date: September 18, 2018
1. What is the culture of Miss Oliver's School for Girls that causes the alumnae and students to love their school? How does their love of school enhance the students' growth and learning? If you presently attend, or are a graduate of a school or college that you love, what are the reasons for your feelings?
2. Most of the characters in the book were upset or even angry when threatened with the possibility of the school going coed; why do you think they reacted this way? What is your opinion of the value of single-sex education for girls, whether it is for elementary school, high school, or college?
3. Four teachers are featured in the book: Francis Plummer, Eudora Easter, Gregory van Buren, and Rachel Bickham. What do they have in common? What made Francis Plummer especially powerful in the school?
4. The last sentence of the scene in which Francis Plummer teaches Robert Frost's "Home Burial" to a class is: No one in this class will ever be the same again. How are those students different after the class? What makes Francis so effective in this class? What personal characteristics? What strategies?
5. What are Fred Kindler's strengths and weaknesses as a leader? Given what you know, having read the novel, would you advise him not to take the job? What leadership skills are needed to succeed as head of school following Marjorie?
6. Imagine that you are a more experienced leader than Fred Kindler and that he thinks of you as a mentor. He calls you asking for advice after his first day in office when he gets all that bad news. What are three or four steps you would advise him to take?
7. If you were on the board of Miss Oliver's and were faced with having to decide whether to admit boys or close the school, which choice would you make? Why?