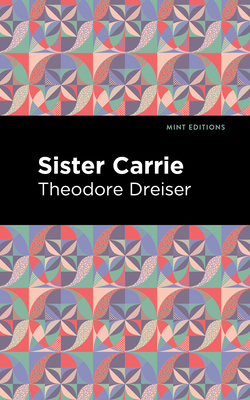 Sister Carrie
Paperback

* Individual store prices may vary.
Other Editions of This Title:
Digital Audiobook (6/21/2005)
Paperback (2/27/2020)
Paperback (2/14/2020)
Paperback (9/26/2020)
Paperback (8/11/2017)
Paperback (4/23/2012)
Paperback (12/8/2020)
Paperback (2/2/2021)
Paperback (5/3/2017)
Paperback (4/16/2018)
Paperback (6/15/2017)
Paperback (3/9/2020)
Paperback (1/28/2021)
Paperback (5/22/2017)
Description
Sister Carrie (1900) is a novel by Theodore Dreiser. Controversial for its honest depiction of work, desire, and urban life, Sister Carrie has endured as a classic of naturalist fiction and remains a powerful example of social critique over a century after its publication. Despite poor reviews upon publication, the novel is now considered a landmark of American literature. Tired of the countryside, Carrie Meeber moves to Chicago to live with her older sister and her husband. On the train ride into the city, she meets an older man, a handsome traveling salesman named Charles Drouet. Despite their obvious attraction, she decides to focus on finding work in order to pay rent. Carrie struggles at a local factory and longs to pursue her interest in acting, but knows that her obligation to family requires she work diligently and without complaint. One day, she encounters Charles on the street and joins him for lunch. He offers to take her in, suggesting that she need no longer worry about factory work or her sister, and remarking on her natural beauty and effortless charm. Soon, however, she strikes up a relationship with an unhappily married man, risking her stability with Charles and tying her fortunes to Hurstwood, who soon proves arrogant and manipulative. With a beautifully designed cover and professionally typeset manuscript, this edition of Theodore Dreiser's Sister Carrie is a classic of American literature reimagined for modern readers.
Mint Editions, 9781513282336, 414pp.
Publication Date: May 21, 2021