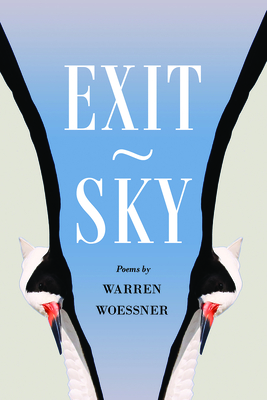 Exit-Sky
Paperback

* Individual store prices may vary.
Description
Exit-Sky is a 50-poem poetry collection, the first to be published by Warren Woessner in a decade. While living an extraordinarily unique life as lawyer, scientist, and poet, Woessner has created an effecting style based on understatement and influences from Chinese poets like Han Shan and Li Po. These short poems may appear understated on the surface, but they are meditations that open up whole worlds via keen observations of the natural world and people. "Prairie Grass" Almost touching the snow banks, the thin stalks are bent down like old women, walking home from a country market, empty early. They are holding just a handful of seeds-- shopping baskets full of wind.
Holy Cow Press, 9781513645605, 72pp.
Publication Date: August 20, 2019
About the Author
Warren Woessner is the Senior Editor of Abraxas, which he co-founded in 1968. He also was a co-founder of WORT-FM in Madison, WI. Five collections of his poetry have been published, most recently Clear All the Rest of the Way (The Backwaters Press). He has received Fellowships in Poetry from the NEA, the Wisconsin Arts Board and the McKnight Foundation. Warren holds a Ph.D. in chemistry and a J.D. from the University of Wisconsin, Madison. He co-founded Schwegman, Lundberg & Woessner in 1993, where he works as a biotechnology patent attorney. Woessner's poetry has been widely published and anthologized, including in periodicals and reviews, including Poetry, Poetry Northwest, the Nation, 5 AM, Nimrod, Midwest Quarterly and The Beloit Pooetry Journal. He won the Minnesota Voices Competition sponsored by New Rivers Press in 1986.