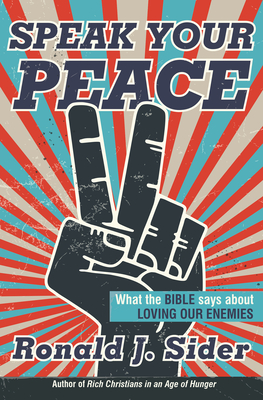 Speak Your Peace (Paperback)
What the Bible Says about Loving Our Enemies
Herald Press (VA), 9781513806259, 224pp.
Publication Date: February 4, 2020
Other Editions of This Title:
Hardcover (2/4/2020)
* Individual store prices may vary.
Description
Is nonviolence irresponsible? Is peacemaking na ve?
From one of the most respected and prophetic voices in Christianity today comes Speak Your Peace. Ronald J. Sider, author of the influential Rich Christians in an Age of Hunger, plumbs Scripture, building a persuasive case that Jesus meant what he said when he commanded us to love our enemies.
With candor and logic, Sider takes on enduring questions about violence and nonviolence, showing how the contemporary church in a warring world has largely set aside Jesus' call to love our enemies and traded its birthright in Christ for a stew of nationalism and militarism. But ignoring what Jesus said about killing is a huge theological mistake. Returning us to the inescapable call of the Son of God, Sider reminds the church of its true vocation in a world of hatred and war.
About the Author
Ronald J. Sider is the author or editor of forty books, including Rich Christians in an Age of Hunger, and is internationally renowned for his leadership among Christians who recognize the social, political, and spiritual implications of the gospel. Having earned a PhD from Yale University, Sider is distinguished senior professor emeritus of theology, holistic ministry, and public policy at Palmer Seminary at Eastern University and is founder and president emeritus of Evangelicals for Social Action. An ordained minister in both Mennonite and Brethren in Christ denominations, Sider lives with his wife, Arbutus, in eastern Pennsylvania. He blogs at Ronsiderblog.substack.com.