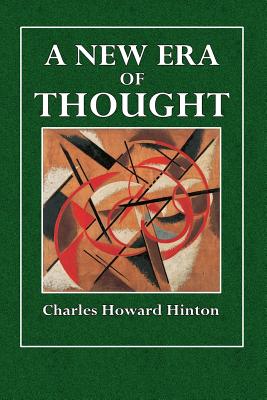 A New Era of Thought (Paperback)
Createspace Independent Publishing Platform, 9781514162101, 296pp.
Publication Date: May 31, 2015
Other Editions of This Title:
Paperback (10/12/2018)
Hardcover (11/1/2018)
Hardcover (10/20/2018)
Paperback (10/20/2018)
Paperback (11/1/2018)
Hardcover (8/8/2015)
Hardcover (8/8/2015)
Paperback (8/19/2017)
Paperback (8/21/2017)
* Individual store prices may vary.
Description
From the Introduction.
At the completion of a work, or at the completion of the first part of a work, the feelings are necessarily very different from those with which the work was begun; and the meaning and value of the work itself bear a very different appearance. It will therefore be the simplest and shortest plan, if I tell the reader briefly what the work is to which these pages are a guide, and what I consider to be its value when done.
The task was to obtain a sense of the properties of higher space, or space of four dimensions, in the same way as that by which we reach a sense of our ordinary three-dimensional space. I now prefer to call the task that of obtaining a familiarity with higher matter, which shall be as intuitive to the mind as that of ordinary matter has become. The expression "higher matter" is preferable to "higher space," because it is a somewhat hasty proceeding to split this concrete matter, which we touch and feel, into the abstractions of extension and impenetrability. It seems to me that I cannot think of space without matter, and therefore, as no necessity compels me to such a course, I do not split up the concrete object into subtleties, but I simply ask: "What is that which is to a cube or block or shape of any kind as the cube is to a square?"
In entering upon this inquiry we find the task is twofold. Firstly, there is the theoretical part, which is easy, viz. to set clearly before us the relative conditions which would obtain if there were a matter physically higher than this matter of ours, and to choose the best means of liberating our minds from the limitations imposed on it by the particular conditions under which we are placed. The second part of the task is somewhat laborious, and consists of a constant presentation to the senses of those appearances which portions of higher matter would present, and of a continual dwelling on them, until the higher matter becomes familiar.
The reader must undertake this task, if he accepts it at all, as an experiment. Those of us who have done it, are satisfied that there is that in the results of the experiment which make it well worthy of a trial....
or
Not Currently Available for Direct Purchase