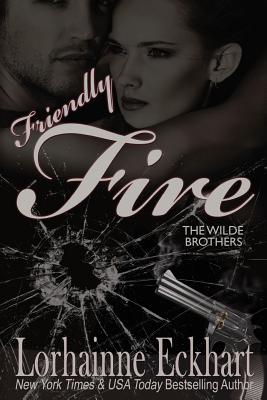 Friendly Fire (Wilde Brothers #2)
Paperback

* Individual store prices may vary.
Description
"I wish I could find a man like the Wilde Brothers." - Tina " This is such a powerful read. From the realistic flashback scenes to the awkward beginning and resistance of a budding relationship. Lorhainne Eckhart has crafted another book that will keep you turning the pages." A Brantley "Read the whole thing in one day. A page turner from start to finish. Makes me wish I lived in Idaho." - Diane In FRIENDLY FIRE, after a roadside bomb ends his career in the marines, Logan Wilde struggles to put his life back together, taking a job as a sheriff in a small Idaho town. He expects a quiet, peaceful life that will bore him to tears. Until he walks through the door of Julia Cooper's cafe. From the moment the new sheriff walks into Julia's cafe, she fights the attraction from the new sheriff, a man she recognizes is ex-military and has baggage that comes along with it. Even though she's never felt this way for another man, Julia isn't willing to take a chance with Logan. No she's convinced herself she needs stability, someone average, someone who has never handled a gun. Except when her daughter disappears its Logan who's there for her, it's Logan she turns to, and Logan who turns the town upside down searching for her. But what Logan realizes is the disappearance of her daughter may not be as it seems, and while Julia waits on the sidelines she wonders if she'll ever be able to trust again and open her heart and take a chance on love. In this touching romance novella, NOT QUITE MARRIED, Logan has his work cut out for him in his mission to get Julia to the altar. (Guest appearances by Samuel Wilde.) THE WILDE BROTHERS:
The One (Joe & Margaret)
The Honeymoon, A Wilde Brothers Short
Friendly Fire (Logan & Julia)
Not Quite Married, A Wilde Brothers Short
A Matter of Trust (Ben & Carrie)
The Reckoning, A Wilde Brothers Christmas
Traded (Jake)
Unforgiven (Logan)
*Now Available* THE WILDE BROTHERS THE COMPLETE COLLECTION If you enjoy THE WILDE BROTHERS, here are some of my other series you may also enjoy: THE OUTSIDER SERIES: An Emotionally charged romance series beginning with the Amazon Bestseller, The Forgotten Child.
THE FRIESSENS: A NEW BEGINNING: The return of The Friessen men and the women they love in this emotionally charged Family Saga which follows THE OUTSIDER SERIES.
THE SAVED SERIES is a hot military suspense with a love story set in a military setting. "This was a hard book to put down A tough captain of a war ship finds a pregnant young girl in a dinghy alone in the ocean " - Audrey
"The story that unfolds after Abby is rescued is a story of love and how it can change even the toughest man." From Crazy fast reader
WALK THE RIGHT ROAD SERIES: "The Choice will leave you questioning your own morals and motivations and leave you asking others what they would do in that same situation. This is a genre-bending novel that will surprise you" from JRA.
"Rarely have I spent time reading a series that had me feeling every thought and emotion." From Mary Ellen.
Createspace Independent Publishing Platform, 9781514172476, 196pp.
Publication Date: August 1, 2015