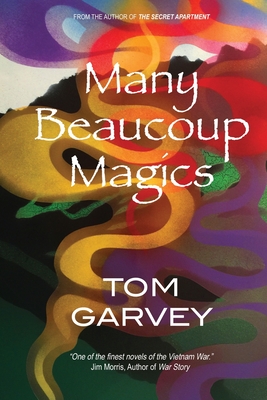 Many Beaucoup Magics (Paperback)
Createspace Independent Publishing Platform, 9781514228159, 146pp.
Publication Date: June 25, 2015
* Individual store prices may vary.
Description
Many Beaucoup Magics is unusual on many levels. It's The Red Badge of Courage of The American War in Vietnam. It's actually a memoir presented as a novella written in the third person. It is real. A true story and not merely "based on a true story," Here is it's Kirkus Review. Kirkus is the oldest, largest and most prestigious reviewer of books in America and arguably, the world. "Debut novelist Garvey, a Vietnam veteran, focuses on one man, Lt. John McManus, in a tale based on a true story. McManus grows up with his uncle's war stories and years later, in 1965, he impulsively joins the Army. In his last weekend stateside, he chances upon a book by astrologer Sydney Omarr. A random opening of the text gives him a page on "August The 17th" and he becomes hooked by the carefully ambiguous entry, which says that the day calls for, among other things, "an interrogated act of courage, and that he would have to pass some cosmic test." ( this conceit may sound hokey, but readers will find that Garvey manages to pull it off.) The 17th of August, as a concept, "crawled inside his head, made a nest, and fouled it." The story then marches inexorably to its fiery climax, when McManus' men find themselves camped on the Cambodian Border outnumbered by perhaps 20-to-1. His outfit is composed of Montagnards - fierce, and fiercely independent, mountain people whom McManus comes to respect deeply and even love. They, like him, are avid believers in dreams as omens, which fosters a very strong bond between the young lieutenant and his grunts. Garvey does a good job of building suspense - one can almost see the calendar pages flip by - as August 17th, 1968 looms, the exact day when the North Vietnamese military plans to launch a massive assault. McManus, as Garvey portrays him, is far from gung-ho; in fact, he's very ambivalent about the war and very terrified most of the time, but he has a job to do, and he does it honorably. The climax is a scene which begs for the big screen treatment. Overall, Garvey writes tightly and economically with hardly a wasted word, when so many Vietnam books tend to scrawl. And at the end, he includes a poem which does credible homage to Alfred, Lord Tennyson's "Ulysses." A slightly different kind of Vietnam take by a gifted writer. "Jim Morris, with solid Special Forces "chops": four purple hearts, three tours, blown out of country twice, reviewed over 1500 manuscripts for a publisher in New York, stated Many Beaucoup Magics is "One of the finest novels of the Vietnam War.