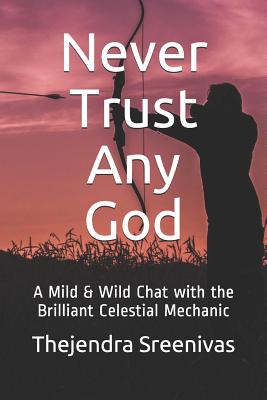 Never Trust Any God
A Mild & Wild Chat with the Brilliant Celestial Mechanic
Paperback

* Individual store prices may vary.
Description
Have you ever seriously wondered why our planet is oozing and dripping with diseases, terrorism, racism, wars, crime, politics, business headaches, and 1001 other problems? Or felt shocked by famous businesses suddenly taking a nosedive from riches to rags? Or baffled by the unexplained collective silence of the benevolent Gods from all of our rival religions? If it's a big YES, then don't waste time seeking answers from any reputed experts, enlightened professors, top economists, or by reading their superb bestsellers. Also, avoid those eminent Nobel laureates, Pulitzer Prize winners, top economists, eloquent politicians, or any influential world leaders, in case you accidentally bump into them. They will only make your doubts worse with their spellbinding theories. However, if you are desperate to clear your nagging doubts then you should ask the Cosmic Machiavelli because, He is the only brilliant person in the entire universe who knows the correct reasons for the chaos and problems on earth, and also why our world's movers and shakers can do nothing about it.He is the dream teacher you were eagerly waiting for since childhood who can effortlessly explain why that dullest kid in your kindergarten is now a successful millionaire, while that smartest kid is now in prison.He has also scribbled a few books, none of which have won any popular literary awards. And without even a website, blog or an email id, he has more fans, friends and followers than every blogger on the entire World Wide Web.He is the only guy who can enlighten you with the technical, political, and business justifications for the eternal dance of feast-famine, merry-mayhem, good-bad, peace-chaos, wealth-poverty, etc., around us.Finally, without even a formal authority he can bring anyone down to their knees, regardless of geographical boundaries, political clout, diplomatic immunity or muscle power. Want to know who that marvelous person is? Just flip the pages.
Createspace Independent Publishing Platform, 9781514252376, 462pp.
Publication Date: June 6, 2015
About the Author
Thejendra is a technical manager from Bangalore, India and works for a software development firm. He is also a hobby author and has scribbled several mild and wild books on a variety of subjects (mostly on topics that he hardly knows anything about). His inspiration for writing weird books comes from Toni Morrison, who said, 'If there is a book that you want to read, but it hasn't been written yet, then you must write it.' He has also had a fierce fight with God, and documented that awesome argument in his book called - Never Trust any God.
or
Not Currently Available for Direct Purchase