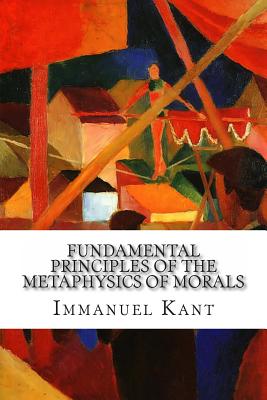 Fundamental Principles of the Metaphysics of Morals
Paperback

* Individual store prices may vary.
Other Editions of This Title:
Digital Audiobook (4/25/2011)
Paperback (5/14/2009)
Paperback (10/31/2008)
Paperback, Large Print (11/2/2006)
Paperback (3/1/1987)
Paperback (7/24/2014)
Paperback (3/22/2016)
Paperback (6/18/2010)
Paperback (12/2/2009)
Paperback (5/2/2011)
Paperback (3/13/2008)
Paperback (7/11/2011)
Paperback (1/15/1785)
Hardcover (6/1/1785)
Paperback (2/18/2008)
Paperback (3/17/2014)
Paperback (5/8/2008)
Description
Immanuel Kant was a German philosopher from K nigsberg (today Kaliningrad of Russia), researching, lecturing and writing on philosophy and anthropology at the end of the 18th Century Enlightenment. At the time, there were major successes and advances in the sciences (for example, Isaac Newton, Carl Friedrich Gauss, and Robert Boyle) using reason and logic. But this stood in sharp contrast to the scepticism and lack of agreement or progress in empiricist philosophy. His ideas influenced many thinkers in Germany during his lifetime. He settled, and moved philosophy beyond, the debate between the rationalists and empiricists. The philosophers Fichte, Schelling, Hegel and Schopenhauer amended and developed the Kantian system, thus bringing about various forms of German idealism. He is seen as a major figure in the history and development of philosophy. German and European thinking progressed after his time, and his influence still inspires philosophical work today.
Createspace Independent Publishing Platform, 9781514327791, 92pp.
Publication Date: June 12, 2015