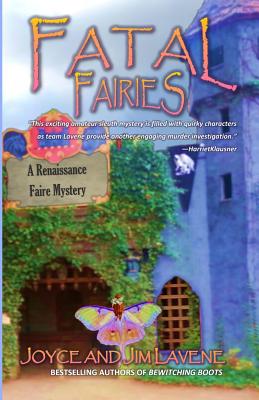 Fatal Fairies (Renaissance Faire Mystery #8) (Paperback)
Createspace Independent Publishing Platform, 9781514760925, 232pp.
Publication Date: June 29, 2015
* Individual store prices may vary.
Description
When a fairy named Apple Blossom is found dead in a fountain, Ren Faire lover Jessie Morton makes a wish she lives to regret-that her husband, Chase Manhattan, is no longer the Renaissance Faire Village Bailiff so he doesn't have to look for the fairy's killer and ruin their plans to go away for their first wedding anniversary. Trapped in a timeless 'It's a Wonderful Life' experience, Jessie is transported to a different Village to face the consequences of her wish where Chase isn't the Bailiff, and he's not married to her. Jessie's fairy godmother who granted the wish tells her that she must find a way to make Chase fall in love with her again, and they must discover who killed Apple Blossom, if she ever wants to go back to the life she knew.
About the Author
Joyce and Jim Lavene write bestselling mystery fiction. They have written and published more than 70 novels for Harlequin, Berkley, and Simon and Schuster along with hundreds of non-fiction articles for national and regional publications. They live in rural North Carolina with their family, Quincy, their black cat, Stan Lee their tabby and their rescue dog, Rudi. Visit them at www.joyceandjimlavene.com www.Facebook.com/JoyceandJimLavene Twitter: @authorjlavene