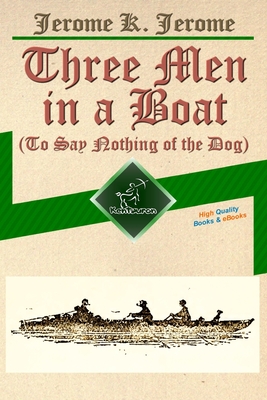 Three Men in a Boat (To Say Nothing of the Dog)
New Illustrated Edition with 67 Original Drawings by A. Frederics, a Detailed Map of Tour, and a Phot
Paperback

* Individual store prices may vary.
Other Editions of This Title:
Paperback (3/21/2014)
Paperback (1/4/2021)
Paperback (4/20/2020)
Paperback (10/2/2019)
Paperback (9/6/2020)
Paperback (5/28/2020)
Paperback (4/1/2020)
Paperback (2/23/2017)
Paperback (2/23/2017)
Paperback (12/15/2020)
Paperback (9/20/2020)
Paperback (12/31/2018)
Paperback (10/18/2016)
Description
New edition for kindle with 67 illustrations based on original drawings by A. Frederics and the Map of Tour. Download the free sample or "look inside" to give it a try. This eBook is based on the work of Jerome K. Jerome "Three Men in a Boat - (To Say Nothing of the Dog)", a humorous account by English writer Jerome K. Jerome of a boating holiday on the Thames between Kingston and Oxford, originally published in 1889. The three men are based on Jerome himself (the narrator J.) and two real-life friends, George Wingrave (who would become a senior manager at Barclays Bank) and Carl Hentschel (the founder of a London printing business, called Harris in the book), with whom he often took boating trips. The dog, Montmorency, is entirely fictionalbut, "as Jerome admits, developed out of that area of inner consciousness which, in all Englishmen, contains an element of the dog." The trip is a typical boating holiday of the time in a Thames camping skiff. This was just after commercial boat traffic on the Upper Thames had died out, replaced by the 1880s craze for boating as a leisure activity. The text of the novel is complete and unabridged (1889 edition). Learn or improve your English, French or Italian by reading the bilingual edition of this eBook. An easy to read paragraph by paragraph English-French or English-Italian parallel text versions. Or look for other bilingual books by the same editor.
http: //smarturl.it/bilingual More Kentauron eBooks
http: //smarturl.it/Kentauron.
Createspace Independent Publishing Platform, 9781514840078, 194pp.
Publication Date: August 9, 2017