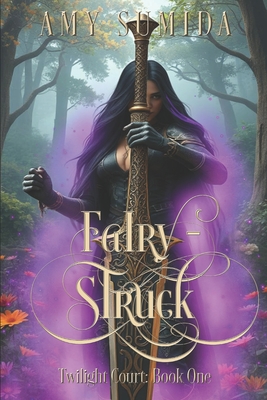 Fairy-Struck (Paperback)
Createspace Independent Publishing Platform, 9781515045557, 448pp.
Publication Date: July 7, 2015
* Individual store prices may vary.
Description
I met him at the end of my sword.
Not exactly romantic but attraction arced between us like lightning. A rare and beautiful connection. Too bad he's a fairy-a hunter, no less. Nothing can happen between us, it's forbidden. Besides, I have bigger issues to deal with. Like a bioweapon that can destroy the entire human race. We have to work together, but I'm a professional. I can ignore the way he stares at me as if I'm already his and the way my heart races when I look at him. No problem. And if that doesn't work, I can always kill him.
Extinguish in order:
1. Fairy-Struck
2. Pixie-Led
3. Raven-Mocking
4. Here There Be Dragons
5. Witchbane
6. Elf-Shot
7. Fairy Rings and Dragon Kings
8. Black-Market Magic
9. Etched in Stone
10. Careless Wishes
About the Author
Amy Sumida lives on a little island in the middle of the Pacific ocean with her two gravity-defying felines. She sleeps in a fairy bed, lifted high in the air, and upon waking, she enjoys stabbing people with tiny needles, over and over, under the guise of making pretty pictures on their skin. She paints dark images on canvases in a cave-like studio carved out of the side of a cliff, and beautiful murals on the walls of her home directly above. She's happiest with her nose buried in a book, or in her laptop as she writes her novels. She is the author of several books, including the Godhunter series, Feeding the Lwas, The Magic of Fabric, Enchantress, and Bargains of the Heart. She's been writing since she was a little girl but first decided to pursue writing as a career when she gave her High School English teacher one of her books to critique and unbeknownst to her, that teacher passed her book around to all of her friends. A month later she was accosted in the halls by a teacher she didn't know, begging her to write a sequel. She's been writing novels ever since. She enjoys serious, kick-ass heroines in her literature. "Nothing is more endearing than a woman who goes up against overwhelming supernatural odds with a sense of humor," she says. "Who wouldn't want to be that woman? I want to be that woman. So that's who I write about, the woman I want to be and the men I want to be with." Her main characters are strong, witty women, who in the midst of trauma will crack a joke, or find the nerve to sass a villain even when they know it's not in their best interest. Add to that, strong male characters who aren't intimidated or emasculated by the main heroine's strength and you have a dynamic partnership. Amy's books aren't about women being more powerful than men or subjugating men in any way, they're about women who can be strong and yet want their men to have their own strengths as well. More importantly, her heroines have humility and weaknesses that make them not only believable but easy to relate to.