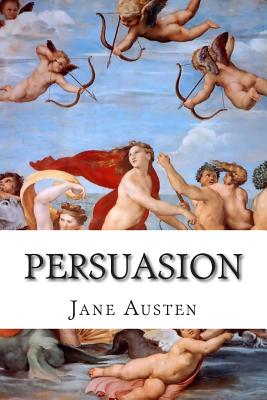 Persuasion
Paperback

* Individual store prices may vary.
Other Editions of This Title:
Paperback (4/5/2014)
Paperback (10/3/2015)
Paperback (8/11/2018)
Paperback (7/17/2018)
Paperback (4/27/2012)
Paperback (7/23/2018)
Paperback (1/30/2017)
Paperback (5/12/2013)
Paperback (6/28/2016)
Paperback (9/18/2014)
Paperback (2/2/2013)
Paperback (6/14/2018)
Paperback (4/27/2015)
Paperback (4/18/2016)
Paperback (7/2/2018)
Paperback (3/5/2018)
Paperback (3/4/2016)
Paperback (3/23/2015)
Paperback (5/7/2015)
Description
Persuasion is Jane Austen's last completed novel. She began it soon after she had finished Emma and completed it in August 1816. She died, at age 41, in 1817; Persuasion was published in December of that year (but dated 1818). Persuasion is linked to Northanger Abbey not only by the fact that the two books were originally bound up in one volume and published together, but also because both stories are set partly in Bath, a fashionable city with which Austen was well acquainted, having lived there from 1801 to 1805. Anne Elliot is the overlooked middle daughter of the vain Sir Walter, a spendthrift baronet who is all too conscious of his good looks and rank. Anne's mother, a loving, intelligent woman, is long dead. Anne's older sister, Elizabeth, takes after her father, and her younger sister, Mary, is a nervous, attention-seeking fretful woman who is married to Charles Musgrove of nearby Uppercross Hall, the heir to a rustic but respected local squire. None of her family can provide much companionship for the refined, sensitive Anne, who is still unmarried at 27 and seems destined for spinsterhood. Nearly seven years after breaking her engagement and subsequently turning down a proposal from Charles Musgrove, who went on to marry her sister, she has still not forgotten Frederick Wentworth.
Createspace Independent Publishing Platform, 9781515135449, 252pp.
Publication Date: July 18, 2015