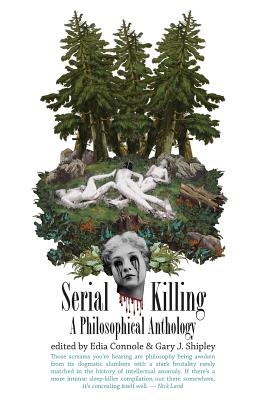 Serial Killing (Paperback)
A Philosophical Anthology
Createspace Independent Publishing Platform, 9781515154853, 428pp.
Publication Date: August 5, 2015
* Individual store prices may vary.
Description
Those screams you're hearing are philosophy being awoken from its dogmatic slumbers with a stark brutality rarely matched in the history of intellectual anomaly. If there's a more intense sleep-killer compilation out there somewhere, it's concealing itself well.
- Nick Land, author of Templexity: Disordered Loops through Shanghai Time (Urbanatomy, 2014)
Serial Killing leaves behind the analysis of the serial killer as a romantic anti-hero, diagnostic category of psychopathology or sociological symptom to offer a collection of essays that infuses the conventional delusions of critical distance with the passionate, homicidal embrace of loving neighborliness. The theoretical, photographic and fictional essays in this volume take the serial killer as an object of both philosophical speculation and spiritual contemplation. In a brilliant cornucopia of styles and obsessions, serial killing becomes, among many other things: the touchstone of common in-humanity, a form of sacrifice and mystical rite, a leisure activity, a kind of bloody ikebana, a kaligraphic and auto-graphic mode of self-portraiture and flesh inscription, the meta-relational emanation of immanent suffering, a form of kleptomancy, an expression of neoliberal love, an ascetic practice of cosmic joy. It is properly mad.
- Scott Wilson, Kingston University, author of Stop Making Sense (Karnac, 2015)
One of the deepest and darkest truths in psychoanalysis is about the serial nature of the object. We pretend that it is unique, irreplaceable, singular, but it isn't, and it always exists as part of a multiple whose secret truth, to our real horror, is the emptiness or nothing at the center of this excess. In this fascinating collection of essays edited by Edia Connole and Gary Shipley we find out about this serial perversion of everyday life.
- Jamieson Webster, Eugene Lang College, author of Stay Illusion (Vintage, 2014)
We simultaneously love and hate serial killers: we dread them, and yet we are fascinated by them. Both in reality, and in books and television shows, serial killers seem to stand at the very edge of what is possible, or of what is human. The essays in this volume push to the extremes of philosophy, and of art and literature, in order to speak to our uneasy relationship with what we both desire and abhor.
- Steven Shaviro, Wayne State University, author of The Universe of Things (UMP, 2014)