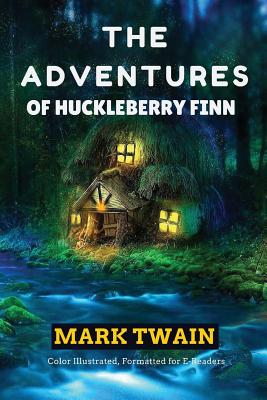 The Adventures of Huckleberry Finn (Paperback)
Color Illustrated, Formatted for E-Readers
Createspace Independent Publishing Platform, 9781515299240, 502pp.
Publication Date: July 21, 2015
Other Editions of This Title:
Paperback (11/27/2013)
Paperback (1/31/2018)
Paperback (7/27/2016)
Paperback (4/17/2014)
Paperback (12/25/2016)
Paperback (8/25/2017)
Paperback (2/27/2018)
Paperback (8/6/2016)
Paperback (3/1/2001)
Paperback (4/1/2013)
Paperback (11/24/2011)
Paperback (3/4/2009)
Paperback (11/1/2016)
Paperback (10/13/2017)
Paperback (10/19/2013)
Paperback (5/4/2016)
Paperback (11/28/2017)
Paperback (3/23/2016)
Paperback (9/17/2017)
Paperback (1/16/2014)
* Individual store prices may vary.
Description
Adventures of Huckleberry Finn (or, in more recent editions, The Adventures of Huckleberry Finn) is a novel by Mark Twain, first published in the United Kingdom in December 1884 and in the United States in February 1885. Commonly named among the Great American Novels, the work is among the first in major American literature to be written throughout in vernacular English, characterized by local color regionalism. It is told in the first person by Huckleberry "Huck" Finn, a friend of Tom Sawyer and narrator of two other Twain novels (Tom Sawyer Abroad and Tom Sawyer, Detective). It is a direct sequel to The Adventures of Tom Sawyer. The book is noted for its colorful description of people and places along the Mississippi River. Set in a Southern antebellum society that had ceased to exist about twenty years before the work was published, Adventures of Huckleberry Finn is an often scathing satire on entrenched attitudes, particularly racism. Perennially popular with readers, Adventures of Huckleberry Finn has also been the continued object of study by literary critics since its publication. It was criticized upon release because of its coarse language and became even more controversial in the 20th century because of its perceived use of racial stereotypes and because of its frequent use of the racial slur "nigger", despite strong arguments that the protagonist and the tenor of the book are anti-racist. Adventures of Huckleberry Finn explores notions of race and identity. An obvious complexity exists concerning Jim's character. While some scholars point out that Jim is good-hearted, moral, and not unintelligent (in pointed contrast to several of the white characters), others have criticized the novel as racist, citing the use of the word "nigger" and emphasizing the stereotypically "comic" treatment of Jim's superstition and ignorance. Huck struggles not only with the challenges of his strenuous journey, but also with the 19th century social climate and the role it forces on him regarding Jim. Throughout the story, Huck is in moral conflict with the received values of the society in which he lives, and while he is unable to consciously refute those values even in his thoughts, he makes a moral choice based on his own valuation of Jim's friendship and human worth, a decision in direct opposition to the things he has been taught. Mark Twain, in his lecture notes, proposes that "a sound heart is a surer guide than an ill-trained conscience" and goes on to describe the novel as "...a book of mine where a sound heart and a deformed conscience come into collision and conscience suffers defeat". To highlight the hypocrisy required to condone slavery within an ostensibly moral system, Twain has Huck's father enslave his son, isolate him, and beat him. When Huck escapes - which anyone would agree was the right thing to do - he then immediately encounters Jim "illegally" doing the same thing. Some scholars discuss Huck's own character, and the novel itself, in the context of its relation to African-American culture as a whole. John Alberti quotes Shelley Fisher Fishkin, who writes in her 1990s book Was Huck Black?: Mark Twain and African-American Voices, "by limiting their field of inquiry to the periphery," white scholars "have missed the ways in which African-American voices shaped Twain's creative imagination at its core." It is suggested that the character of Huckleberry Finn illustrates the correlation, and even interrelatedness, between white and black culture in the United States.