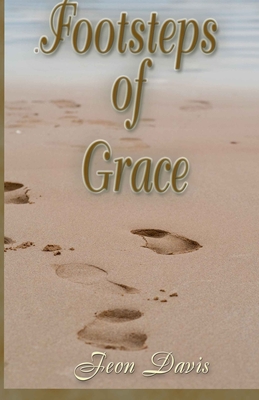 Footsteps of Grace (Paperback)
Createspace Independent Publishing Platform, 9781515305576, 92pp.
Publication Date: August 1, 2015
* Individual store prices may vary.
Description
'Footsteps of Grace', written by Feon L. Davis, is an inspirational paperback, that resonates with praise, as each poem bring us closer to her love of God. It was inspired through having initially written prose pieces, and having developed these over a period of time into poetry. Poets such as Edward Thomas, an English poet and friend of the great American poet Robert Frost, took this approach also, writing about nature and about every day topics and then transforming prose into poetry. Feon's poetry has been instigated by her religious feelings though, and it is very idiosyncratic to her emotional experiences of feeling a proximity with God that she communicates with elegance through her poetry. Her poems reflect the beauty and warmth that Feon feels, as part of her encounter with the Lord. Within the anthology, there are many poems which almost read like prayers, and this sense of linking in with God is perpetually within Feon Davis' poetry. She feels connected with her sense of spirituality through writing poetry, and the intensity of language and feeling can easily be seen by any reader. The poems scintillate with language which shows Feon's sense of being blessed, the subject areas reflecting life for anyone in any place and of any age, however, as they have a universality about them. Her poems appeal to the heart and mind, and they are cathartic in taking the reader on a journey in which they explore their own faith. Christianity brings with it certain emotions which we all sometimes find difficult to express exactly, and we may all feel different emotions as we express our thanks to God. Feon's poetry is an example of how close some people feel to God, as she can hear and feel Him beside her, when she writer her poetry, and her sentiments express this. She shares her feelings of love with the reader, as well as raising questions about their own experience, inviting them on what may potentially be described as a poetry pilgrimage. Small miracles happen to us each and everyday, and within Feon's life, poems are like miracles in that they transform perception and can change feelings from those of sadness to peace. Feon Davis brings to the reader a rainbow of words, which will inevitably brighten their day, as they are often optimistic and offer hope, giving the reader courage and offering calm. Within our modern world, with so many pressures and demands, this anthology is a small oasis, which can be dipped into at any time, bringing feeling of serenity and stillness. Feon believes that everyone is special, and that our own sense of uniqueness should be celebrated through poetry. She communicates the sense that we are all individuals and we should be free to express ourselves through poetry, tapping into those inner reserves in the way that God intended, to empower us. Poetry offers peace, and Feon's lovely words release people from the stresses and strains of their every day lives, taking them on a journey, walking in the 'Footsteps of Grace'.
About the Author
Hello, and bless you all! My name is Feon Davis, and I have written my anthology in praise of the Lord, whose many blessings have been showered on my life. Let me say that its good to share with you my first paperback inspirational Christian faith-based poetry anthology. I have been writing for 40 years now, so my poetry has evolved over the years, and my selection here has taken many years to mature. I am still blessed by God's whispering glory to my soul after all this time, and I can feel God's presence in all that I do. I love writing about God's love rather through nature, or how I am feeling in my heart, and mind and soul. The topics that I cover link in with every day life, and talk about the power of God. I find poetry both inspiring and empowering, and I find that I can develop my self-knowledge through poetry, as you can too. When we look inside, we can feel the joy of the Lord, and I like to think that my poetry mirrors that. When I was born, I was deprived of oxygen, so language did not come easily to me but I have worked very hard over the years to master using words. Through reading the Bible and listening to scripture, I have accumulated many Biblical words and terms, and these naturally appear in my poetry in various ways. I love the sound of words and you will find that if you read my poems out loud, you will realise that. Life is a never ending journey with the Lord, and when we follow in His footsteps, we know that we are on the right path. As it says in Matthew 7:14: " Because strait is the gate, and narrow is the way, which leadeth unto life, and few there be that find it."( KJV) To me, this quotation is so true, as I feel that poetry is part of that 'narrow' way, where through language, we can explore the meaning of faith. I believe that through poetry, we can feel closer to God, as the language of poetry resonates with the creativity that we have all been given by Him. If you would like read few of my other poems, please visit my website, that has been running for 10 years now. The link is: http: //www.inthearmsofgod.com Please feel free to 'friend' me on Facebook link: http: //www.facebook.com/Poetfeondavis. And to spread the word about my poetry, as I am always keen to link in with readers. Many thanks for your interest in my anthology.
or
Not Currently Available for Direct Purchase