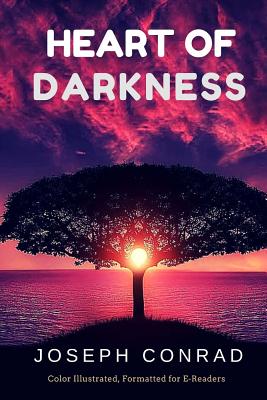 Heart of Darkness (Paperback)
Color Illustrated, Formatted for E-Readers
Createspace Independent Publishing Platform, 9781515325840, 172pp.
Publication Date: July 26, 2015
Other Editions of This Title:
Paperback (9/1/2013)
Paperback (7/30/2008)
Paperback (11/6/2015)
Paperback, Large Print (9/10/2015)
Paperback (1/15/2010)
Paperback (11/2/2006)
Paperback (11/17/2018)
Paperback (7/30/2008)
Paperback, Large Print (12/22/2005)
Paperback (4/8/2013)
Paperback (12/11/2015)
Paperback (10/11/2012)
Paperback (3/13/2014)
Paperback (12/23/2013)
Paperback (4/9/2015)
Paperback (5/19/2016)
Paperback (11/22/2011)
Paperback (3/26/2016)
Paperback (6/29/2015)
* Individual store prices may vary.
Description
Unabridged & Original version WITH ALL 170 PAGES Includes: 15 Illustrations and Biography Heart of Darkness (1899) is a novella citation needed] by Polish novelist Joseph Conrad, about a voyage up the Congo River into the Congo Free State, in the heart of Africa, by the story's narrator Marlow. Marlow tells his story to friends aboard a boat anchored on the River Thames, London, England. This setting provides the frame for Marlow's story of his obsession with the ivory trader Kurtz, which enables Conrad to create a parallel between London and Africa as places of darkness. Central to Conrad's work is the idea that there is little difference between so-called civilized people and those described as savages; Heart of Darkness raises important questions about imperialism and racism. Originally published as a three-part serial story in Blackwood's Magazine, the novella Heart of Darkness has been variously published and translated into many languages. In 1998, the Modern Library ranked Heart of Darkness as the sixty-seventh of the hundred best novels in English of the twentieth century. Joseph Conrad acknowledged that Heart of Darkness was in part based on his own experiences during his travels in Africa. In 1890, at the age of 32, he was appointed by a Belgian trading company to serve as the captain of a steamer on the Congo River. Conrad, who was born in Poland and later settled in England, had eagerly anticipated the voyage, having decided to become a sailor at an early age. While sailing up the Congo river from one station to another, the captain became ill, Conrad assumed command of the boat and guided the ship to the trading company's innermost station. He reportedly became disillusioned with Imperialism, after witnessing the cruelty and corruption perpetrated by the European companies in the area. The novella's main narrator, Charles Marlow, is believed to have been based upon the author.