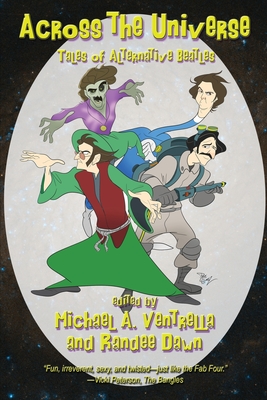 Across the Universe
Tales of Alternative Beatles
Paperback

* Individual store prices may vary.
Other Editions of This Title:
Hardcover (12/3/2019)
Description
Sorcerers, superheroes, and zombies.
Out of work, out of luck, out of practice.
Gods, clods, or four simple lads.
Here are the Beatles as you've never known them before: singing for their supper, singing for their souls, and singing to save the world.
Join 25 remarkable authors as they take you Across the Universe.
Featuring the stories of: Spider Robinson, Gregory Benford, David Gerrold, Allen M. Steele, Pat Cadigan, Lawrence Watt-Evans, Jody Lynn Nye, Gregory Frost, Cat Rambo, Keith R.A. DeCandido, Gail Z. Martin, Bev Vincent, Brenda W. Clough, Alan Goldsher, Gordon Linzner, Beth W. Patterson, Christian H. Smith, Sally Wiener Grotta, Kenneth Schneyer, Charles Barouch, Carol Gyzander, Patrick Barb, R. Jean Mathieu, Eric Avedissian, and Matthew F. Amati.
"This collection is a Magical Mystery Tour through alternate universes where the familiar narrative of the Beatles is turned on its head. Or ear. Or ass. It's fun, irreverent, sexy, and twisted--just like the Fab Four themselves." --Vicki Peterson, The Bangles
"I must have read a thousand Beatles books. But not one of them mentioned that the Beatles were attacked by aliens at the Hollywood Bowl. Or talked about their encounter with the Mersey Monster. Or discussed how they became zombies. I had to learn all of this from the thoroughly entertaining anthology Across the Universe. Each of its 25 stories of speculative fiction re-imagine The Beatles in alternative universes, allowing us to laugh at and with John, Paul, George, and Ringo. Highly recommended " --Scott Freiman, creator of Deconstructing the Beatles
"Across the Universe is way too much fun It's the Beatles in the Twilight Zone of infinite possibilities Highly recommended " --Jonathan Maberry, New York Times bestselling author of V-Wars and Rage
"Across the Universe is a fantastic, freewheeling, and imaginative romp of a collection. The authors transported me not only across the universe, but to what might have been in many and various alternate universes, all populated by the Beatles and their peculiar possible transmutations. Totally engrossing." --Paul Marshall, I See Hawks In L.A., Strawberry Alarm Clock
Fantastic Books, 9781515423966, 280pp.
Publication Date: December 3, 2019