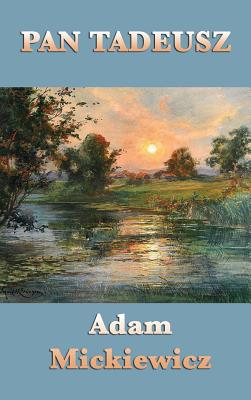 Pan Tadeusz
Hardcover

* Individual store prices may vary.
Other Editions of This Title:
Paperback (12/15/1962)
Paperback (8/5/2020)
Paperback (4/30/2019)
Paperback (1/1/1992)
Paperback (7/3/2020)
Paperback (10/7/2015)
Paperback, Polish (9/29/2013)
Hardcover (8/22/2015)
Paperback (4/26/2011)
Hardcover (8/14/2020)
Paperback (9/25/2018)
Paperback, Polish (1/20/2018)
Description
Pan Tadeusz is an epic poem by the Polish-Lithuanian poet, writer and philosopher Adam Mickiewicz. The book was first published in June 1834 in Paris, and is considered by many to be the last great epic poem in European literature. The story takes place over the course of five days in 1811 and one day in 1812 at a point in Polish history, when Poland-Lithuania had already been divided between Russia, Prussia, and Austria and disappeared from the political map of Europe.
SMK Books, 9781515430421, 240pp.
Publication Date: April 3, 2018
About the Author
Adam Mickiewicz (1798 - 1855) was a Polish poet, dramatist, essayist, activist, and professor. He is regarded as a national poet in Poland, Lithuania, and Belarus. Born into Russian-occupied Lithuania, Mickiewicz was active in the struggle to win independence. He lived most of his life in exile in western Europe where he wrote freely of the occupation and taught Slavic literature. He died in Constantinople, where he had gone to help organize forces to fight against the Russians in the Crimean War. About the translator: Bill Johnston is a professor of Comparative Literature at Indiana University. His translations include Witold Gombrowicz's Bacacay; Magdalena Tulli's Dreams and Stones, Moving Parts, Flaw, and In Red; Jerzy Pilch's His Current Woman and The Mighty Angel; Stefan Żeromski's The Faithful River; and Fado and Dukla by Andrzej Stasiuk. In 1999 he received a National Endowment for the Arts Poetry Fellowship for Translation. In 2008 he won the inaugural Found in Translation Award for Tadeusz Rozewicz's new poems, and in 2012 he was awarded the PEN Translation Prize and Three Percent's Best Translated Book Award for Myśliwski's Stone Upon Stone.