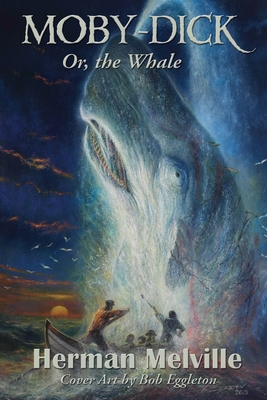 Moby-Dick
Or, the Whale
Paperback

* Individual store prices may vary.
Other Editions of This Title:
Digital Audiobook (6/15/2005)
Digital Audiobook (3/28/2010)
Digital Audiobook (1/26/2009)
Digital Audiobook (7/25/2016)
Paperback (4/30/2016)
Paperback (5/11/2015)
Paperback (11/2/2015)
Paperback (8/8/2019)
Paperback (9/6/2018)
Paperback, Spanish (7/21/2020)
Paperback, Spanish (7/21/2020)
Paperback, Spanish (7/21/2020)
Paperback, Spanish (7/21/2020)
Paperback, Spanish (7/21/2020)
Paperback (8/10/2015)
Paperback (6/24/2020)
Description
Moby-Dick is considered the great American novel. It has withstood the test of time and has seen its reputation grow with each passing year. The story is narrated by Ishmael the only surviving sailor of a disastrous wailing expedition. Captain Ahab sets off to hunt down the great white whale, Moby-Dick. Ahab is looking for revenge On his previous voyage Ahab lost his leg to Moby-Dick. One of the greatest adventure stories ever told With twelve period interior illustrations you won't find in other editions.
one of the strangest and most wonderful books in the world--D. H. Lawrence
...fertile fancy, ingenious construction, playful learning, and an unusual power of enchaining the interest...--London Morning Advertiser
Of all the extraordinary books from the pen of Herman Melville this is out and out the most extraordinary. --London John Bull
in point of richness and variety of incident, originality of conception, and splendor of description, surpasses any of the former productions of this highly successful author--Harper's New Monthly Magazine
Wilder Publications, 9781515441472, 488pp.
Publication Date: August 6, 2019