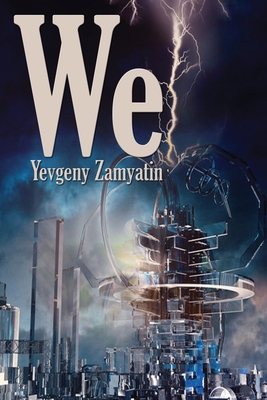 We
Paperback

* Individual store prices may vary.
Other Editions of This Title:
Digital Audiobook (3/27/2011)
Paperback (1/31/2020)
Paperback (5/29/2020)
Paperback (5/30/2020)
Paperback (2/26/2020)
Hardcover (12/2/2019)
Mass Market (8/1/1983)
Hardcover (5/31/2020)
Paperback (9/1/2020)
Paperback (8/1/1993)
Prebound (8/1/1993)
Description
We is an earth shattering dystopian novel that ruffled the feathers of the ruling elite of Russia when it was smuggled out of the country and published in English in 1924. It would not see publication in Russia until 1988. As a result of Yevgeny Zamyatin's treatment over the novel he left Russia.
We is set in the twenty six century were a totalitarian government rules the world. Every citizen has all of their needs completely taken care of. But the price is a life without passion, creativity, or adventure. Cities are made of glass to aid the government's surveillance of its people. Citizens are given numbers rather than names to discourage individuality. But resentment and anger seethe just beneath the surface of the citizenry's polite veneer. It is time for someone to strike a blow for individuality and freedom. A fast paced adventure novel with a message that reverberated down through history.
Brave New World, Anthem, 1984, and Player Piano all owe an enduring debt to We. Of writing Player Piano Kurt Vonnegut said "I cheerfully ripped off the plot of Brave New World, whose plot had been cheerfully ripped off from Yevgeny Zamyatin's We."
Positronic Publishing, 9781515442653, 200pp.
Publication Date: December 2, 2019