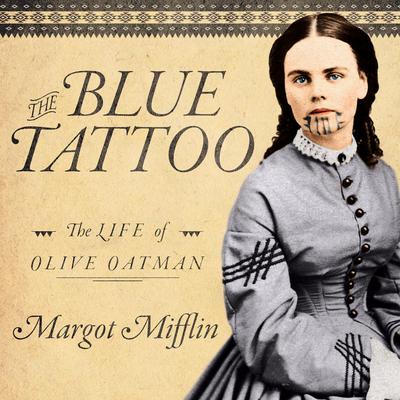 The Blue Tattoo (Digital Audiobook)
The Life of Olive Oatman
Publication Date: April 28, 2016
Other Editions of This Title:
Paperback (4/1/2011)
Hardcover (4/1/2009)
Compact Disc (4/29/2016)
MP3 CD (4/29/2016)
Compact Disc (4/29/2016)
MP3 CD (4/29/2016)
Description
In 1851 Olive Oatman was a thirteen-year-old pioneer traveling west toward Zion, with her Mormon family. Within a decade, she was a white Indian with a chin tattoo, caught between cultures. The Blue Tattoo tells the harrowing story of this forgotten heroine of frontier America. Orphaned when her family was brutally killed by Yavapai Indians, Oatman lived as a slave to her captors for a year before being traded to the Mohave, who tattooed her face and raised her as their own. She was fully assimilated and perfectly happy when, at nineteen, she was ransomed back to white society. She became an instant celebrity, but the price of fame was high and the pain of her ruptured childhood lasted a lifetime.



Based on historical records, including letters and diaries of Oatman's friends and relatives, The Blue Tattoo is the first book to examine her life, from her childhood in Illinois—including the massacre, her captivity, and her return to white society—to her later years as a wealthy banker's wife in Texas.
About the Author
Kaipo Schwab is an actor, director, and producer who has worked at the Roundabout, Manhattan Theatre Club, the Public Theater, Second Stage, Playwrights Horizons, Hartford Stage, Cincinnati Playhouse, GeVa Theater, Pan Asian Rep, and New York Theatre Workshop. In 2004 he directed part of ABC's Cultural Diversity Showcase. His film and television credits include Anesthesia, Fair Game, The Royal Tenenbaums, It Could Happen to You, All My Children, The Protector, Law & Order, New York Undercover, Can Openers, Rescue Me, and Cosby. He can also be seen on Netflix's Orange Is the New Black playing the role of prison medic, Igme Dimaguiba. Audiobook credits include Jimmy Breslin's The Good Rat (2009 Benjamin Franklin Award winner), Walter Dean Myers' We Are America: A Tribute from the Heart (2013 Audie nomination) and Marilyn Singer's Full Moon Is Rising. Born and raised in Honolulu, Hawaii, he attended the British American Drama Academy and is a graduate of Boston University College of Fine Arts. Kaipo and his wife, Hope, live in New York City with their son, Giovanni, and their one-eyed pug, Wink.