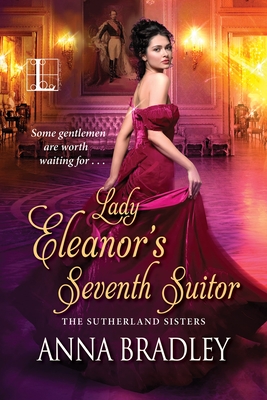 Lady Eleanor's Seventh Suitor (The Sutherlands #1)
Paperback

* Individual store prices may vary.
Description
Two sought-after sisters, a slew of suitors—and a vow to hold out for true love. How many proposals will it take to get to "I do"—especially when the stakes are high . . .
 
There have been six suitors so far, all vying for the attention—and generous dowry—of the beautiful, elusive Eleanor Sutherland. What does this woman really want? Who has what it takes to melt the heart of the so-called Lady Ice? These are the questions Camden West keeps asking himself. But rather than wait for answers, Cam takes matters into his own hands . . . for he has a secret weapon.
 
Cam knows that Ellie's sister, Charlotte, harbors a scandalous secret—one that could bring ruin to the Sutherland name. If Ellie marries him, Cam promises to keep mum. But is she willing to sacrifice her own happiness for her sister's reputation?
 
To Ellie's surprise, it becomes clear that Cam doesn't need her money, nor is he interested in her status. Soon, what begins as a sham engagement transforms into something deeper, and more passionate, than Ellie could have imagined. Is it possible that all Cam truly wanted was her? And is that reason enough to say yes—or is handsome Cam hiding something else? Even for a lady in love, only the truth will do . . .
Lyrical Press, 9781516105175, 270pp.
Publication Date: September 5, 2017
About the Author
Anna Bradley is the author of The Sutherland Scandals novels. A Maine native, she now lives near Portland, OR, where people are delightful and weird and love to read. She teaches writing and lives with her husband, two children, a variety of spoiled pets, and shelves full of books. Visit her website at www.annabradley.net.