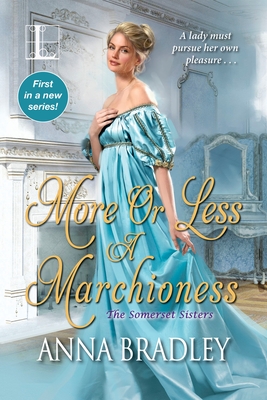 More or Less a Marchioness (The Somerset Sisters #1)
Paperback

* Individual store prices may vary.
Description
The Somerset sisters, three beautiful, headstrong debutantes in Regency London, are discovering that a bit of scandal is a delightful thing . . .
 
For the sake of propriety, and her younger sisters' reputations, Iris Somerset has kept her rebellious streak locked away. But though she receives a proposal from Phineas Knight, Lord of Huntington, Iris can't marry a man she knows isn't truly enamored with her. In fact, Iris no longer wants to be chosen—she wants to choose. Under the clandestine tutelage of "wicked widow" Lady Annabel Tallant, she'll learn how to steer her own marriage prospects—and discover her secret appetites . . .
 
What kind of debutante refuses a marquess? Finn is surprised, a little chastened—and thoroughly intrigued. This new, independent version of Iris is far more alluring than the polished socialite she used to be. Finn believed he needed a safe, quiet wife to curb his wilder impulses. But the more Iris surprises him, the more impossible it becomes to resist their deepest desires . . .
Praise For More or Less a Marchioness (The Somerset Sisters #1)…
"Bradley's newest series revisits the world of the Sutherlands, but focuses on a new trio of sisters: the Somersets. Iris has somehow managed the match of the season, but something is off. While she is inexperienced, she is sharp as a tack, trusts her instincts and learns from her mistakes, which makes her easy to root for…resulting in a sweet romance. Heat-wise, MORE OR LESS A MARCHIONESS is a slow burn with more implication and anticipation, but the teasing build-up is delightful. A controlling-but-shy hero, a quietly subversive heroine, a house party, a minor villain, and a read-aloud scene involving 17th century erotica, along with seamless prose, add up to an unconventionally irresistible romance."- RT Book Reviews, 4 Stars
Lyrical Press, 9781516105359, 250pp.
Publication Date: February 6, 2018
About the Author
Anna Bradley is the author of The Sutherland Scandals and The Sutherland Sisters novels. A Maine native, she now lives near Portland, OR, where people are delightful and weird and love to read. She teaches writing and lives with her husband, two children, a variety of spoiled pets, and shelves full of books. Visit her website at www.annabradley.net.