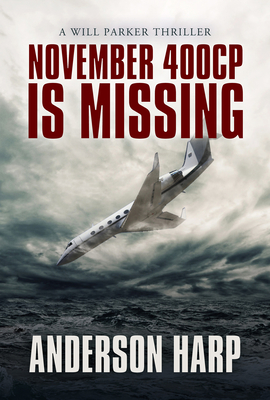 November 400CP Is Missing (Will Parker Thriller #6)
Paperback

* Individual store prices may vary.
Description
The PT Chevron Pacific Gulfstream banks towards the north after lifting off from the international airport at Kuala Lumpur. The oil-exploration team has reason to celebrate: The new oil field outside of Minas will be the biggest reserve in the history of Indonesia. And the country desperately needs it. The team breaks open the fifty-year-old bottle of scotch they've been saving for just this moment. But in the next moment, the jet drops abruptly, like a rock, then turns sharply west on a path similar to that of a well-known commercial airliner from the recent past, descends through radar coverage . . . and disappears.

Decorated Marine lieutenant colonel and small-town Georgia D.A. Will Parker has nothing to do with Chevron Pacific--until the wife of a former Marine buddy calls. She understands that her husband, who had been working for Chevron, is gone. But she wants answers, and the FBI and CIA are of little help. It's a request Will can't refuse.
Will's contact on the ground is Retno Karims, a sharp, multilingual, former Miss Indonesia who speaks Bahasa Indonesian, Chinese, and Javanese. She also happens to be from Banda Aceh. Rumor has it that the terrorist group Laskar Mujahidin has reawakened and is operating somewhere in Banda Aceh on the northern point of Sumatra. No one doubts they're involved in downing the oil-company jet. Then again, no one believes any proof will stick, even if authorities locate the wreckage. Parker believes otherwise . . .

Praise for RETRIBUTION

"Tense and authentic--reading this book is like living a real life mission."
--Lee Child

"I seldom come across a thriller as authentic and well-written as Retribution. Andy Harp brings his considerable military expertise to a global plot that's exciting, timely, and believable . . . to say that I'm impressed is an understatement."
--David Morrell, New York Times bestselling author of The Protector

"Retribution is a stunner: a blow to the gut and shot of adrenaline. Here is a novel written with authentic authority and bears shocking relevance to the dangers of today. It reminds me of Tom Clancy at his finest."
--James Rollins, New York Times bestselling author of Bloodline

"Outstanding thriller with vivid characters, breakneck pacing, and suspense enough for even the most demanding reader. Harp writes with complete authenticity and a tremendous depth of military knowledge. A fantastic read--don't miss it "
--Douglas Preston, #1 bestselling author of Impact
Kensington Publishing Corporation, 9781516109821, 244pp.
Publication Date: May 4, 2021