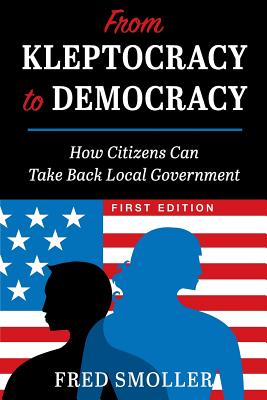 From Kleptocracy to Democracy (Paperback)
How Citizens Can Take Back Local Government
Cognella Academic Publishing, 9781516539543, 276pp.
Publication Date: August 8, 2018
Other Editions of This Title:
Hardcover (8/8/2018)
* Individual store prices may vary.
Description
From Kleptocracy to Democracy: How Citizens Can Take Back Local Government provides students with a critical examination of the large-scale political corruption that looted Bell, California between 1993 and 2010. For 17 years, some city officials paid themselves more than a million dollars a year, using the police department as a "for profit" vehicle for collecting fines, and issuing over $100 million in bonds. They turned the city into their own private cash machine. Residents of the poor, immigrant community are still struggling to repay the city's exorbitant debt.

The book draws on interviews with more than 50 people connected to the Bell scandal to provide a compelling, in-depth look at how waves of factory closings, economic shifts, and immigration pressures gutted the structures that are essential to civic health, opening the way for grifting politicians. The book analyzes the seemingly minor breakdowns in civic life that invite corruption, and offers students and interested citizens tools for analyzing the health of their own communities. Apathy killed democracy in Bell for almost two decades, but the press--and the dogged political activism of young Latinos and Muslims in the Dreamers generation-- brought it back. The book makes a clear connection between civil complacency and the resulting damage to American democracy. It demonstrates how citizens can actively resist political corruption by remaining involved and informed in local government.

From Kleptocracy to Democracy inspires informed citizenship. It is an excellent supplementary resource for courses in local government, public administration, sociology, Chicano studies, urban politics, law and society, and ethics studies.
Fred Smoller, a frequent contributor to the Los Angeles Times and the Orange County Register, earned his Ph.D. from Indiana University, Bloomington, his M.A. from the University of Texas at Austin, and his B.A. from State University New York, College of Fredonia. He is an associate professor of political science at Chapman University in Orange, California, where he teaches courses on public administration and state and local politics. His key area of professional interest is American politics, with a specific emphasis on media and politics, local government, and public administration.