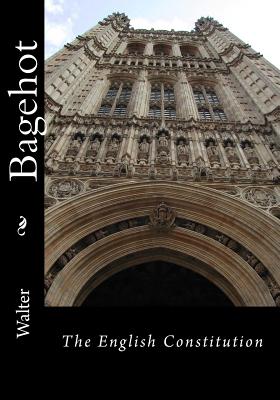 The English Constitution
Paperback

* Individual store prices may vary.
Other Editions of This Title:
Paperback (8/31/2017)
Paperback (3/24/2015)
Hardcover (5/25/2017)
Paperback (5/25/2017)
Hardcover (8/21/2015)
Paperback (12/31/2017)
Hardcover (8/22/2015)
Hardcover (9/2/2015)
Hardcover (5/19/2016)
Paperback (11/12/2017)
Hardcover (5/19/2016)
Hardcover (5/25/2016)
Hardcover (4/28/2016)
Hardcover (11/17/2015)
Paperback (6/27/2018)
Paperback (3/10/2017)
Paperback (3/30/2017)
Description
Walter Bagehot (3 February 1826 - 24 March 1877) was a British journalist, businessman, and essayist, who wrote extensively about government, economics, and literature. Bagehot was born in Langport, Somerset, England, on 3 February 1826. His father, Thomas Watson Bagehot, was managing director and vice-chairman of Stuckey's Banking Company. He attended University College London (UCL), where he studied mathematics, and in 1848 earned a master's degree in moral philosophy. Bagehot was called to the bar by Lincoln's Inn, but preferred to join his father in 1852 in his family's shipping and banking business. In 1867, Bagehot wrote The English Constitution, a book that explores the nature of the constitution of the United Kingdom, specifically its Parliament and monarchy. It appeared at the same time that Parliament enacted the Reform Act of 1867, requiring Bagehot to write an extended introduction to the second edition which appeared in 1872. Bagehot also wrote Physics and Politics (1872), in which he examines how civilisations sustain themselves, arguing that in their earliest phase civilisations are very much in opposition to the values of modern liberalism, insofar as they are sustained by conformism and military success, but once they are secured it is possible for them to mature into systems which allow for greater diversity and freedom. In Lombard Street: A Description of the Money Market (1873) Bagehot seeks to explain the world of finance and banking. His observations on finance are often cited by central bankers, most recently in the wake of the global financial crisis which began in 2007. Of particular importance is "Bagehot's Dictum" that in times of financial crisis central banks should lend freely to solvent depository institutions, only against good collateral and at interest rates that are high enough to dissuade those borrowers that are not genuinely in need.
Createspace Independent Publishing Platform, 9781516804931, 172pp.
Publication Date: August 7, 2015