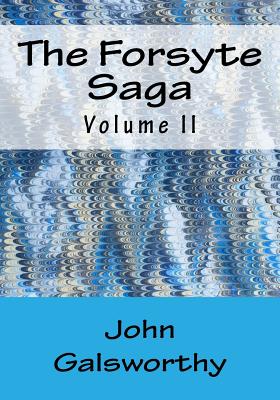 The Forsyte Saga
Volume II
Paperback

* Individual store prices may vary.
Other Editions of This Title:
Paperback (8/16/2015)
Paperback (8/16/2015)
Paperback (12/10/2014)
Paperback (1/1/2009)
Paperback (10/1/2002)
Paperback (4/22/1996)
Description
Old Jolyon befriends Irene, who is now living alone. When he dies he leaves her a legacy, appointing his son, Young Jolyon, to be her trustee. The main theme of the novel is the marital discord experienced by Soames and his sister, Winifred. Soames urges her to divorce her husband but he refuses to divorce Irene. Instead he stalks her, urging her to return to him so that he can have a son. When Irene refuses to return to him he accuses her and Jolyon of having an affair. Although untrue, they admit they are in order to give Soames the evidence he needs. Soames divorces Irene, leaving her free to marry Jolyon and they have a son, Jolyon, known as Jon. Soames, in his obsession to have a son, marries the daughter of a French restaurant owner and they have a daughter, Fleur.
Createspace Independent Publishing Platform, 9781516847815, 234pp.
Publication Date: August 16, 2015