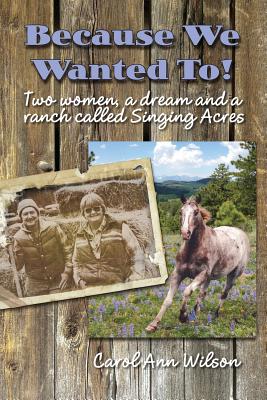 Because We Wanted To!
Two women, a dream and a ranch called Singing Acres
Paperback

* Individual store prices may vary.
Description
"Why would two girls come out here to a rugged part of Colorado, buy an old dilapidated ranch, and raise horses?" This question came to Margaret Locarnini and Clara Reida more than once, and their response forms the heart of this story. Meeting at Girl Scout Camp while working as riding instructors, Margaret from Oakland, California and Clara from Rago, Kansas, they discovered they both held the dream of raising horses in the Colorado Rockies. By joining forces they believed they could make their dream come true. Undaunted by the many barriers women faced as recently as 1965-simply acquiring loans without husbands signing for them as one shocking example-they moved forward, dotting the "i" and crossing the "t" on "irrelevant" as far as convention was concerned. They named their ranch Singing Acres to honor their deep love of singing and the way the land sang to them. Facing numerous hardships with courage and humor, they cultivated friendships; raised beautiful horses; helped countless others; and became the heart of a community. Carol Ann Wilson is the author of award-winning, Still Point of the Turning World: The Life of Gia-fu Feng. She lives in Boulder, Colorado. In these pages you will meet a couple of ranch intellectuals in overalls who season their learning and their expansive curiosity with direct observation and experience. Their minds already fed by Emerson, Thoreau, the poets and novelists they've read, they continue to grow by their engagement with the mountain world they live in. Two educators who never stop learning, Clara and Margaret learn from one another, they learn from the Appaloosas they raise; they learn from the deer on the ridge and the elk over the far hill. They learn from the frequent strays, the students or the lost who come to stay for a time and go back into the world healed or healing, and brave enough to find their own way. Never rich or famous these women enrich the lives of all who make their way to Singing Acres Ranch. If you haven't been there yet, their friend, author Carol Ann Wilson, will show you the way. From the three of them you will learn something of the height, depth, and breadth our human spirits can reach. -Gary Holthaus Author of Wide Skies: Finding a Home in the West and From the Farm to the Table: What All Americans Need to Know about Agriculture Here is a book about two ostensibly ordinary women-Clara Reida and Margaret Locarnini-whose lives instead have what's necessary to become legend-dreams, adventure, risk, determination, humor, generosity, struggle, compassion, triumph, and loss. Carol Wilson has captured the spirited lives of these two life-long friends through layered stories-Clara's and Margaret's-as well as those of friends, students, neighbors, family members, and sometimes strangers. One cannot help but feel the vibrant resonance that emanates from these two visionaries and the singular place called Singing Acres Ranch. -Carolyn Servid Author of Of Landscape and Longing: Finding a Home at the Water's Edge
Createspace Independent Publishing Platform, 9781517151614, 256pp.
Publication Date: August 31, 2015
About the Author
Carol Ann Wilson, author of award-winning STILL POINT OF THE TURNING WORLD: The Life of Gia-fu Feng, lives in Boulder, Colorado. For more information, please visit www.carolannwilson.info