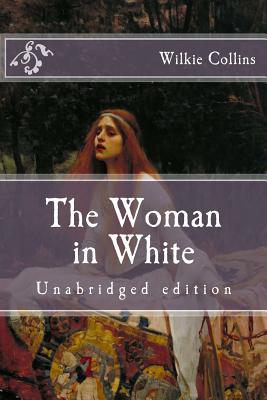 The Woman in White (Paperback)
Unabridged Edition
Createspace Independent Publishing Platform, 9781517401887, 386pp.
Publication Date: September 17, 2015
Other Editions of This Title:
Paperback (12/15/2017)
Paperback (10/9/2017)
Paperback (3/14/2014)
Paperback, Large Print (8/3/2011)
Paperback (9/20/2018)
Paperback (3/22/2011)
Paperback (11/21/2018)
Paperback (6/29/2016)
Paperback (1/1/2006)
Paperback (1/20/2014)
Paperback (12/17/2016)
Paperback (4/1/2015)
Paperback (10/24/2018)
Paperback (1/8/2013)
* Individual store prices may vary.
Description
The Woman in White is Wilkie Collins' fifth published novel, written in 1859. It is considered to be among the first mystery novels and is widely regarded as one of the first (and finest) in the genre of "sensation novels." The story is sometimes considered an early example of detective fiction with the hero, Walter Hartright, employing many of the sleuthing techniques of later private detectives. The use of multiple narrators draws on Collins's legal training, and as he points out in his Preamble: "the story here presented will be told by more than one pen, as the story of an offence against the laws is told in Court by more than one witness." In 2003, The Observer listed The Woman in White number 23 in "the top 100 greatest novels of all time," and the novel was listed at number 77 on the BBC's survey The Big Read. Walter Hartright, a young art teacher, meets a mysterious and distressed woman dressed in white. He helps her on her way, but later learns that she has escaped from an asylum. Next day, he travels to Limmeridge House in Cumberland, having been hired as a drawing master on the recommendation of his friend, Pesca, an Italian language master. The Limmeridge household comprises the invalid Frederick Fairlie, and Walter's students: Laura Fairlie, Mr Fairlie's niece, and Marian Halcombe, her devoted half-sister. Walter realises that Laura bears an astonishing resemblance to the woman in white, who is known to the household and whose name is Anne Catherick.
About the Author
William Wilkie Collins (1824 - 1889) was an English novelist, playwright, and author of short stories. His best-known works are The Woman in White (1859), No Name (1862), Armadale (1866), and The Moonstone (1868). In 1851, he met Charles Dickens, and the two became close friends. A number of Collins' works were first published in Dickens' journals All the Year Round and Household Words. The two collaborated on several dramatic and fictional works, and some of Collins' plays were performed by Dickens' acting company.