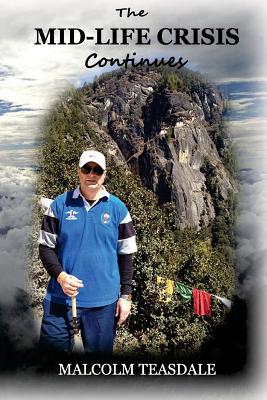 The Mid-Life Crisis Continues
Black and White version
Paperback

* Individual store prices may vary.
Other Editions of This Title:
Paperback (11/3/2015)
Description
After spending the past 30 years traveling on business to locations around the World, the time arrived when Malcolm Teasdale could visit places of his own choosing.One would think that after so much time "on the road", that he would have thrown in the towel and settled down to a normal, peaceful life. What now appears to be an addiction or an extension of a midlife crisis, he seems hell-bent on traveling to destinations where most people would not consider.Whether it is trekking the Himalayas in Nepal, diving with Whale Sharks in the Philippines or giant Manta Rays in the Maldives, climbing to an iconic monastery in Bhutan located at 10,000 feet on the side of a mountain, socializing with the locals in Myanmar, driving through the aftermath of Typhoon Haiyan in route to Boracay, the quest for adventure and living on the edge forever continues. Chapters include: Soul searching and trekking in the Himalayas - Nepal If there is such a thing as God's country, Maldives could be it - Maldives Pattaya: definitely not God's creation - Thailand City of Angels: but not for those who believe in them - Philippines Typhoon? What typhoon? - Philippines Like a sudden hope in the dark night of the soul - Myanmar Keeping it sacred in Bhutan - Bhutan Don't be a chicken, go to Turkey - Turkey New year happenings in Nha Trang - Vietnam... plus lots morewww.malcolmjteasdale.com.
Createspace Independent Publishing Platform, 9781517419974, 300pp.
Publication Date: November 3, 2015
About the Author
Malcolm Teasdale was born in Coventry, England and is a successful entrepreneur who now spends his time traveling to "off-the-beaten-track" places. Spending all of his working life in the technology industry, he has made a success from creating two software development companies, the most recent of which he started in 1998 and sold to a major corporation in 2013. He created markets in all the major continents, and sold products to 8,000 + customers in over 70 countries. His company received numerous industry awards for product quality, innovation, and pioneering technology, and he has spoken at many industry events. He has traveled to over 60 countries for business and leisure, but since retiring from the industry, now travels to the more unusual destinations in the World in search of rich cultural experiences, His 3rd travel book called, "The Midlife Crisis Continues" which is about ignoring age and seeking out adventures has just been published. His previous two books "Travel Diaries of an Atypical Businessman" and "Asia Specific" focused on the quirky side of travel and the challenge of expanding his company's reach in Asia Pacific by living in the region during periods in 2007 and 2008. Whether it be trekking in the Himalayas or diving with Whale Sharks, there is always a new adventure to be had, and as long as he is physically and mentally able, the story will continue. Having also lived in Canada and Singapore, he now resides in Florida.