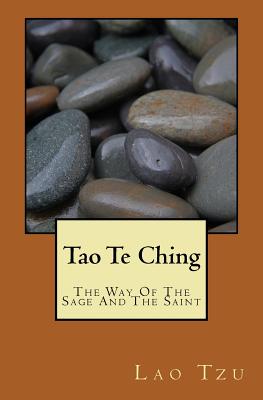 Tao Te Ching (Paperback)
The Way Of The Sage And The Saint
Createspace Independent Publishing Platform, 9781517723309, 94pp.
Publication Date: November 18, 2015
Other Editions of This Title:
Paperback (2/21/2012)
Paperback (10/1/2015)
Paperback (8/6/2016)
Paperback (7/14/2011)
Paperback (12/28/2012)
Paperback (6/9/2013)
Paperback, Spanish (8/12/2014)
Paperback (4/3/2010)
Paperback (4/15/2003)
Paperback (5/16/2008)
Paperback (12/24/2008)
Paperback (6/29/2018)
* Individual store prices may vary.
Description
Tao Te Ching presents the way (Tao) of virtue (Te) in classical Chinese philosophy (Ching). This classic way of virtue is a power for living within principles found throughout nature and all of existence. Abiding in this way brings balance to materially-driven living. It adds Yin to the Yang of modernity. It is the way of sages and saints through all ages. Although impossible in actual practice, an attempt has been made to minimize interpretation while striving for direct translation. The source material is generally attribute to Lao Tzu as presented by Wang Bi. Fortunately, there is no one definitive presentation of Tao Te Ching. In this volume, punctuation is minimized so that the reader may play with multiple ways of phrasing. The resulting ambiguity can become a rich source for a variety of insights. It is antithetical to the Tao to analyze it, or to apply scholarship to it. No context need be applied; the Tao is its own context. If portions of the text seem to make little sense, remember that nothing in life makes complete sense. Just move slowly through it. Abide in it. Internalize it little by little. Try living it. Enjoy it.
About the Author
Gordon F. Holbein, Ph.D. is a Senior Lecturer in Strategy & Leadership at the Gatton College of Business and Economics at the University of Kentucky. He was born and raised near Syracuse, NY, and went to school in New Hampshire, New York and Pennsylvania, but much prefers Kentucky's milder climate! Gordon's education includes a Bachelor of Arts in Geography from Dartmouth College, an M.B.A. from Syracuse University, and a Ph.D. in Strategy and Leadership from The Pennsylvania State University. He has twelve years of work experience in bank management in New York, predominantly in branch management, product management and strategic planning. His consulting experience extends across organizations in the automotive, healthcare, financial services and technology industries, and he has worked with a variety of not-for-profit organizations as well. Dr. Holbein's academic career spans more than twenty-five years of university teaching at UK, Penn State, Syracuse University, and Northern Kentucky University. His main areas of expertise are Strategic Management, Leadership Development, Corporate Social Responsibility, and Global Management. Professor Holbein left the ranks of the University of Kentucky's research faculty in order to pursue a full-time teaching career in 2000, and was promoted to Senior Lecturer in 2007. He teaches in UK's undergraduate, graduate and executive education programs. Dr. Holbein has been recognized by the University of Kentucky's College of Education as a "Teacher Who Made A Difference" on three occasions, has been cited for excellence in teaching by Beta Gamma Sigma Honor Society, Alpha Kappa Psi professional business fraternity and the UK Panhellenic Council, and in 2012 was named UK's best professor in the Kentucky Kernel's "Best Of UK" awards. He has also been awarded the Humana Corporation Teaching Innovation Grant three times. Gordon has been a featured speaker for the Emerging Leader Institute, the University of Kentucky Student Activities Board's "Final Word" symposium, and in the Delta Epsilon Iota Honor Society's guest lecturer series.