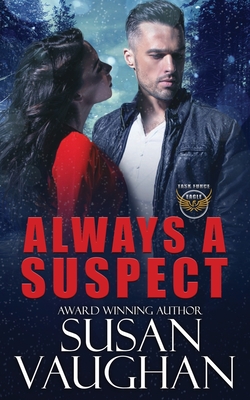 Always a Suspect (Paperback)
Prequel to the Task Force Eagle Trilogy
Createspace Independent Publishing Platform, 9781517778248, 294pp.
Publication Date: October 22, 2015
* Individual store prices may vary.
Description
NEW COVER
Prequel to the Task Force Eagle series - Part of a series, but a stand-alone novel with its own conclusion. No cliff-hangers. Is she a criminal or a victim? Or both?
After the deaths of two husbands and a fianc , Claire Saint-Ange is branded the Widow Spider in her coastal Maine town. Tormented by threatening phone calls and desperate to prove her innocence, Claire hires a P.I. But her attraction to the rugged investigator poses an even greater threat. She can't risk losing someone she cares about... not again. Never again.
Two tragic losses cause federal agent Michael Quinn to submit his resignation, but he's forced into one last gig-investigate the widow's connection to her last husband's drug smuggling. Uncovering this lovely, mysterious woman's darkest secrets should be just an assignment, but her gentle soul and passion break down his walls and make him long to believe in her innocence.
The frozen Maine landscape, deadly attacks, and shocking revelations test Claire and Michael at every turn-but it's the blazing desire between them that threatens their very lives.
About the Author
Susan Vaughan is a multi-published and award-winning author. She loves writing romantic suspense because it throws the hero and heroine together under extraordinary circumstances and pits them against a clever villain. Her books have been translated into French, German, Spanish, and Icelandic, and have won the Golden Leaf, More Than Magic, and Write Touch Readers' Award and been a finalist for the Booksellers' Best and Daphne du Maurier awards. A former teacher, she's a West Virginia native, but she and her husband have lived in the Mid-Coast area of Maine for many years.