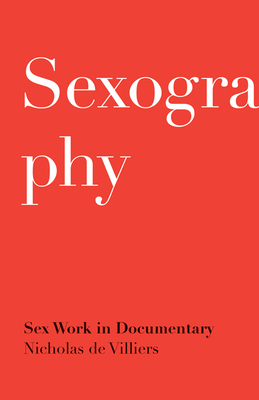 Sexography
Sex Work in Documentary
Paperback

* Individual store prices may vary.
Other Editions of This Title:
Hardcover (3/21/2017)
Description
The turn of the twenty-first century has witnessed an eruption of nonfiction films on sex work. The first book to examine a cross-section of this diverse and transnational body of work, Sexography confronts the ethical questions raised by ethnographic documentary and interviews with sexually marginalized subjects. Nicholas de Villiers argues that carnal and cultural knowledge are inextricably entangled in ethnographic sex work documentaries.
De Villiers offers a reading of cinema as a technology of truth and advances a theory of confessional and counterconfessional performance by the interviewed subject who must negotiate both loaded questions and stigma. He pays special attention to the tactical negotiation of power in these films and how cultural and geopolitical shifts have affected sex work and sex workers. Throughout, Sexography analyzes the films of a range of non–sex-worker filmmakers, including Jennie Livingston, Pier Paolo Pasolini, Shohini Ghosh, and Cui Zi'en, as well as films produced by sex workers. In addition, it identifies important parallels and intersections between queer and sex worker rights activist movements and their documentary historiography.
De Villiers ultimately demonstrates how commercial sex is intertwined with culture and power. He advocates shifting our approach from scrutinizing the motives of those who sell sex to examining the motives and roles of the filmmakers and transnational audiences creating and consuming films about sex work.
Praise For Sexography: Sex Work in Documentary…
"Nicholas de Villiers's deeply felt and sharply focused transcultural purview of documentary representations of sex work is all the more urgent at a historical moment that threatens to close down not only desire and difference but also documentary's historical aspirations toward democracy and social justice. The critical questions he raises extend far beyond the narrow bounds of the selected films as he behooves us to join him in trying to answer them."—Thomas Waugh, Concordia University
"Unlike former work focusing on prostitutes as characters in film, Nicholas de Villiers launches an entirely new discourse around the motivations, inventions, and methods of sex worker cinema in this groundbreaking book. His integration of perspectives of both non-sex-worker filmmakers and films made by sex workers is absolutely crucial. In a book that's been a long time coming, de Villiers embraces the 'whore's eye view' of experiential makers and presents an inquiry that is central to investigations of politics, political art, and empowerment."—Carol Leigh, producer of Outlaw Poverty, Not Prostitutes
"de Villiers has sought to be, as he says, "a queer ally" to sex workers — meaning that he seeks to assist in the process of destigmatization and to problematize the discourse of sex worker as victim. In a world that is dominated by anti-sex work bias, such an analysis is sorely needed."—Los Angeles Review of Books
Univ Of Minnesota Press, 9781517900151, 288pp.
Publication Date: March 21, 2017
About the Author
Nicholas de Villiers is associate professor of English and film at the University of North Florida. He is the author of Opacity and the Closet: Queer Tactics in Foucault, Barthes, and Warhol (Minnesota, 2012).
or
Not Currently Available for Direct Purchase