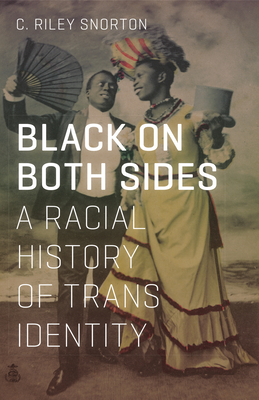 Black on Both Sides
A Racial History of Trans Identity
Paperback

* Individual store prices may vary.
Other Editions of This Title:
Digital Audiobook (2/21/2022)
Hardcover (12/5/2017)
Description
Winner of the John Boswell Prize from the American Historical Association 2018
Winner of the William Sanders Scarborough Prize from the Modern Language Association 2018
Winner of an American Library Association Stonewall Honor 2018
Winner of Lambda Literary Award for Transgender Nonfiction 2018
Winner of the Sylvia Rivera Award in Transgender Studies from the Center for Lesbian and Gay Studies

The story of Christine Jorgensen, America's first prominent transsexual, famously narrated trans embodiment in the postwar era. Her celebrity, however, has obscured other mid-century trans narratives—ones lived by African Americans such as Lucy Hicks Anderson and James McHarris. Their erasure from trans history masks the profound ways race has figured prominently in the construction and representation of transgender subjects. In Black on Both Sides, C. Riley Snorton identifies multiple intersections between blackness and transness from the mid-nineteenth century to present-day anti-black and anti-trans legislation and violence.
Drawing on a deep and varied archive of materials—early sexological texts, fugitive slave narratives, Afro-modernist literature, sensationalist journalism, Hollywood films—Snorton attends to how slavery and the production of racialized gender provided the foundations for an understanding of gender as mutable. In tracing the twinned genealogies of blackness and transness, Snorton follows multiple trajectories, from the medical experiments conducted on enslaved black women by J. Marion Sims, the "father of American gynecology," to the negation of blackness that makes transnormativity possible.
Revealing instances of personal sovereignty among blacks living in the antebellum North that were mapped in terms of "cross dressing" and canonical black literary works that express black men's access to the "female within," Black on Both Sides concludes with a reading of the fate of Phillip DeVine, who was murdered alongside Brandon Teena in 1993, a fact omitted from the film Boys Don't Cry out of narrative convenience. Reconstructing these theoretical and historical trajectories furthers our imaginative capacities to conceive more livable black and trans worlds.
Praise For Black on Both Sides: A Racial History of Trans Identity…
"Black on Both Sides challenges the historical account of trans studies invention by excavating a black trans presence and persona long before modern articulations of such. C. Riley Snorton offers us a way to read the historical record in a fashion that requires the unthought to be the basis of the foundation for our claims of newness, demonstrating that there is no revision of what it means to be human without coming through blackness, past and present."—Rinaldo Walcott, author of Queer Returns: Essays on Multiculturalism, Diaspora, and Black Studies
"C. Riley Snorton's Black on Both Sides is a welcome contribution to black studies with the potential to influence future directions in the burgeoning field of transgender studies. It is rigorous scholarship that manages to be imaginative and timely."—Kara Keeling, author of The Witch's Flight: The Cinematic, the Black Femme, and the Image of Common Sense
"In a beautifully written and brilliant intervention and extension—the first full length book 'to examine the historical and contemporary importance of race to the constitution of "trans gender"'—C. Riley Snorton identifies and performs a black trans reading practice, from Anarcha to Transgender Days of Remembrance."—Christina Sharpe, author of In the Wake: On Blackness and Being
"The research done here is stellar."—Washington Blade
"This book is an outstanding contribution to conversations about black and trans studies; it will transform scholarly understandings of both fields and the intersections between them."—CHOICE
"Black on Both Sides reminds us that when we are careful about how we tell stories, we get new, nuanced stories that expose systems for what they are and that honor historically ignored populations."—Autostraddle
"Black on Both Sides offers a new imagining of both black and trans history beginning in the early 19th century through the present."—Into News
"Black on Both Sides is both important and timely. In an era where transgender acceptance and violence are both at an all-time high, the book reiterates the need for a historical analysis of all disenfranchised and overlooked people. Snorton offers a unique perspective into the burgeoning field of transgender history."—H-Net Reviews
"Explores how such important scientific advances as the development of modern gynaecology, for example, took place through and with repeated experimentation on enslaved Black women."—Wear Your Voice Magazine
"C. Riley Snorton's book Black on Both Sides: A Racial History of Trans Identity is a field-changing, paradigm-shifting, once-in-a-generation book that will be read and reckoned with for years to come."—American Historical Review
"Carried by an extensive archive of materials such as fugitive slave narratives, sensationalist journalism, and Afro-modernist literature, Snorton gives insight into the importance of black history in relation to of transgender topics. Snorton illuminates how the foundations for "understanding gender as mutable" derive from the horrifics of slavery. Snorton's research proves to be an outstanding and well-needed addition to the conversation of black and trans communities."—PopSugar
"It is unquestionable that Black On Both Sides will quickly become necessary reading for anyone thinking about blackness, transness, gender, or historiography. Implicit in its argument is how integral questions of blackness and transness are to numerous other "unrelated" fields: emblematic of such is the sheer number of citations in each chapter (in multiple chapters citation count is in excess of 125), which is less a citational overload and instead an indication of black/trans's relevance to scholars in fields from black studies to transgender studies, continental philosophy to history to journalism. Snorton's articulation of such an original historiographical theorization, and serious advancement of the analytic properties (rather than strictly identificatory) of blackness and transness, makes this book a groundbreaking text with which anyone in the aforementioned fields, among numerous others, would be remiss not to grapple rigorously."—Journal of African American History
"Black on Both Sides holds a needed critique of the real, lived dangers of liberal inclusion and an identity politics that stubbornly refuses to address ongoing systemic forces that feed into dangerous and deadly circumstances for Black and trans people, including interpersonal violence as well as systemic forces of policing and incarceration, job discrimination, and social isolation. Beyond this, it offers and prioritizes the beauty of those lives that move through the interstices and oversights of categorization, holding a resonant claim to life and meaning."—Gender and Women's Studies
"Black on Both Sides is a rigorous historical and theoretical project that seeks to complicate how we understand blackness at an onto- logical level. What Snorton does exceptionally well is to offer readers the opportunity to consider the ways in which the narrowness of disciplinary boundaries within the academy have rendered queerness and transness as periphery subjects in black history. In this way the book functions as a call to think more expansively about trans studies and black studies."—Journal of the History of Sexuality
"C. Riley Snorton ambitiously develops a capacious trans genealogy, which culminates in transgender but arrives there through the motion across categories contained in such derivatives as transitivity and transversality. Not a conventional history, the book is more a set of associative assemblages, a racial poetics of transness, a densely theoretical challenge to historical method."—Journal of American History
"C. Riley Snorton's Black on Both Sides: A Racial History of Trans Identity is an outstanding theorization and history of the interdependence and co- construction of race and gender in the United States."—Oxford University Press Journals
"Black on Both Sides: A Racial History of Trans Identity provides an intricate and well-developed weaving of the past to the present."—QED: A Journal in LGBTQ 
"An incredible insight to how Black people pioneered being out as transgender... A great source and reference for historical events that took place that could help readers with awareness and understanding of the trans community."—Outvoices Nashville 
Univ Of Minnesota Press, 9781517901738, 256pp.
Publication Date: December 5, 2017
About the Author
C. Riley Snorton is associate professor of Africana studies and feminist, gender, and sexuality studies at Cornell University and visiting associate professor of American studies and ethnicity at the University of Southern California. He is author of Nobody Is Supposed to Know: Black Sexuality on the Down Low (Minnesota, 2014).