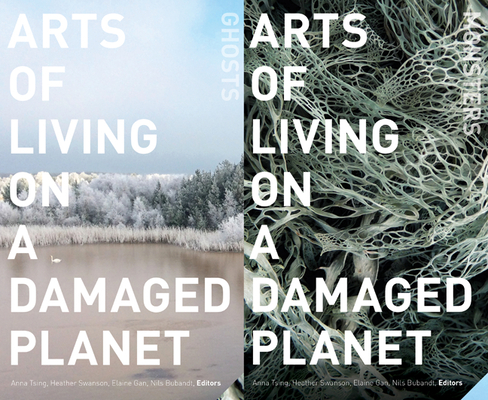 Arts of Living on a Damaged Planet
Ghosts and Monsters of the Anthropocene
Paperback

* Individual store prices may vary.
Other Editions of This Title:
Hardcover (5/30/2017)
Description
Living on a damaged planet challenges who we are and where we live. This timely anthology calls on twenty eminent humanists and scientists to revitalize curiosity, observation, and transdisciplinary conversation about life on earth.
As human-induced environmental change threatens multispecies livability, Arts of Living on a Damaged Planet puts forward a bold proposal: entangled histories, situated narratives, and thick descriptions offer urgent "arts of living." Included are essays by scholars in anthropology, ecology, science studies, art, literature, and bioinformatics who posit critical and creative tools for collaborative survival in a more-than-human Anthropocene. The essays are organized around two key figures that also serve as the publication's two openings: Ghosts, or landscapes haunted by the violences of modernity; and Monsters, or interspecies and intraspecies sociality. Ghosts and Monsters are tentacular, windy, and arboreal arts that invite readers to encounter ants, lichen, rocks, electrons, flying foxes, salmon, chestnut trees, mud volcanoes, border zones, graves, radioactive waste—in short, the wonders and terrors of an unintended epoch.
Contributors: Karen Barad, U of California, Santa Cruz; Kate Brown, U of Maryland, Baltimore; Carla Freccero, U of California, Santa Cruz; Peter Funch, Aarhus U; Scott F. Gilbert, Swarthmore College; Deborah M. Gordon, Stanford U; Donna J. Haraway, U of California, Santa Cruz; Andreas Hejnol, U of Bergen, Norway; Ursula K. Le Guin; Marianne Elisabeth Lien, U of Oslo; Andrew Mathews, U of California, Santa Cruz; Margaret McFall-Ngai, U of Hawaii, Manoa; Ingrid M. Parker, U of California, Santa Cruz; Mary Louise Pratt, NYU; Anne Pringle, U of Wisconsin, Madison; Deborah Bird Rose, U of New South Wales, Sydney; Dorion Sagan; Lesley Stern, U of California, San Diego; Jens-Christian Svenning, Aarhus U.
Praise For Arts of Living on a Damaged Planet: Ghosts and Monsters of the Anthropocene…
"Arts of Living on a Damaged Planet exposes us to the active remnants of gigantic past human errors—the ghosts—that affect the daily lives of millions of people and their co-occurring other-than-human life forms. Challenging us to look at life in new and excitingly different ways, each part of this two-sided volume is informative, fascinating, and a source of stimulation to new thoughts and activisms. I have no doubt I will return to it many times."—Michael G. Hadfield, University of Hawai'i at Manoa
"Facing the perfect storm strangely named the Anthropocene, this book calls its readers to acknowledge and give praise to the many entangled arts of living which made this planet liveable and which are now unravelling. Grandiose guilt will not do, we need to learn noticing what we were blind to, a humble but difficult art. The unique welding of scholarship and affect achieved by the texts here assembled tells us that learning this art also means allowing oneself to be touched and induced to think and imagine by what touches us."—Isabelle Stengers, author of Cosmopolitics I and Cosmopolitics II
"What an inventive, fascinating book about landscapes in the anthropocene! Between these book covers, rightside-up, upside-down, a concatenation of social science and natural science, artwork and natural science, ghosts of departed species and traces of our own human shrines to memory... Not a horror-filled glimpse at destruction but also not a hymn to romantic wilderness. Here, guided by a remarkable and remarkably diverse set of guides, we enter into our planetary environments as they stand, sometimes battered, sometimes resilient, always riveting in their human—and non-human—richness. Arts of Living On a Damaged Planet is truly a book for our time."—Peter Galison, Harvard University
"Calling a book 'mandatory reading' usually feels hyperbolic, but it's justified in the case of Arts of Living on a Damaged Planet. A stunning collection of essays from scientists, writers and artists on humankind's impact on the planet, and how we all can survive it."—Shelf Awareness
"This vibrant, moving, and philosophical two-sided essay collection reminds us of all the ways that human beings and the natural world are interconnected. Deborah Bird Rose's piece on the "shimmer of life" alone makes the book worth reading."—Chicago Review of Books
"There's a poetry in facts. And as this book reveals, there is an increasing amount of courage and acceptance to be found in understanding even the most destructive changes in plant and wildlife that the overheated Anthropocene will bring us."—Santa Fe New Mexican
"Well worth reading: a frank, luminous set of dispatches from future worlds and fractured pasts."—Full Stop
"Arts of Living on a Damaged Planet is a strikingly aesthetic object, carefully curated at the level of form as well as content. It makes a convincing case for the relevance of 'hard science' to art and politics."—Glasgow Review of Books
"The Anthropocene is characterised by extreme and irreversible changes to the environment, resulting in an exponential scarcity of living beings and threats to most life systems on earth. In response to this precarity, the editors and contributors to Arts suggest that we must collectively observe and study the world around us to attune our co-existence more authentically to these ecologies, through increased knowledge about both the impacts of past actions and our embeddedness in multispecies webs."—Environmental Values
"By focusing on entanglement and haunting in this double-sided book, the contributors in Arts of Living on a Damaged Planet demand a reconceptualisation of what it means to be active participants in the Anthropocene. They also want us to recognise that our standing is not at all separate from nature, time, or matter."—Gothic Nature Journal
"The editors of Arts of Living on a Damaged Planet set out to illustrate through storytelling the ambivalent entanglements of ghosts and monsters in the Anthropocene as a practical means toward broadening our knowledge-creation of the challenges of a world in the making. If the scientific community takes to heart their offering (and the offerings of those who came before them), the scientific paradigm-shift (that started with feminist science studies, the civil rights movement, and environmentalism) from objectivity to subjectivity might just take hold as a dominant epistemology."—Hypatia Reviews
"Arts of Living is a provocative dispatch from the edges of humanity's new condition."—Sedimenta 
Univ Of Minnesota Press, 9781517902377, 368pp.
Publication Date: May 30, 2017
About the Author
Anna Lowenhaupt Tsing is professor of anthropology at the University of California, Santa Cruz, and a Niels Bohr Professor at Aarhus University in Denmark, where she codirects Aarhus University Research on the Anthropocene (AURA). 
Heather Swanson is assistant professor of anthropology at Aarhus University. 
Elaine Gan is art director of AURA and postdoctoral fellow at Aarhus University. 
Nils Bubandt is professor of anthropology at Aarhus University, where he codirects AURA.