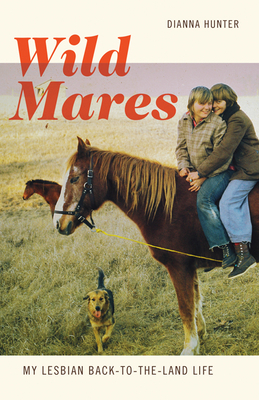 Wild Mares (Paperback)
My Lesbian Back-to-the-Land Life
Univ Of Minnesota Press, 9781517902667, 248pp.
Publication Date: April 10, 2018
* Individual store prices may vary.
Description
A wry memoir of growing up, coming out, and going back to the land as a lesbian feminist in the rural Midwest of the 1960s and 70s

Dianna Hunter was a softball-loving, working-class tomboy in North Dakota, surviving the threat of the Cuban Missile Crisis and Mutually Assured Destruction in the shadow of a strategic air command base. Communists and antiwar hippies were the enemy, but lesbians were a threat, too: they were unhealthy, criminal, and downright insane. It took Dianna a while to figure out that she was one, a little longer to discover how she fit in with her new communities in the city and the countryside. This is her story—a frank account by turns comic and painful of a well-behaved Midwestern girl finding her way through polite denial and repression and running head-on into the eye-opening events of the 1960s and '70s before landing on a dairy farm.
A bumpy route takes Dianna to the Twin Cities, then to rural Minnesota and Wisconsin as—by way of the antiwar movement, women's liberation, and a dose of lesbian feminism—she and her friends try to establish a rural utopia free of sexual oppression, violence, materialism, environmental degradation—and men. They dream big, love as they see fit, and make do until they don't. Dianna buys a dairy farm and, with it, a new set of problems thanks to the Reagan-era farm crisis. 
A firsthand account of the lesbian feminist movement at its inception, Wild Mares is a deeply personal, wryly wise, and always engaging view of identity politics lived and learned in real life and, literally, on the ground, flourishing in the fertile soil of a struggling dairy farm in the American heartland.
About the Author
Dianna Hunter is author of the book and radio series Breaking Hard Ground: Stories of the Minnesota Farm Advocates. She taught writing and women's and gender studies at four universities, including the University of Wisconsin–Superior, where she was a lecturer and director until she retired in 2012.
Praise For Wild Mares: My Lesbian Back-to-the-Land Life…
"Dianna Hunter's engaging memoir thoughtfully recounts a feminist era, ethos, and way of life that until recently has been largely lost to the historical record. Told with nuanced self-reflection and respect for wider contexts, Hunter's stories will challenge any narrow assumptions about what it was like to create and live the 'second wave.'"—Finn Enke, author of Finding the Movement
"Wild Mares is the riveting story of the struggles and integrity of a contemporary pioneer who tried to change the world with few resources other than her own extraordinary courage, stamina, resourcefulness, and idealism. From teaching the first women's studies class at her college, to chopping wood and hauling it home through snowdrifts on a horse-drawn sleigh, to operating her own dairy farm, to advocating at the state government for struggling farmers, Dianna Hunter is an inspiring feminist force."—Nancy Manahan, author of Lesbian Nuns: Breaking Silence
"Wild Mares helps to remind people reading it in 2018 and beyond that much work has been done over the decades in the LGBTQ community, but the forces that aim to divide and regress are always present"—Woman Today
"A worthwhile look at non-traditional twentieth-century farming, and at Midwestern lesbian history."—South Florida Gay News
"Wild Mares refers to the horses Hudson loved, but also to the eager, sometimes-confused and socially-conscious wild young lesbians on whose shoulders the new generations stand."—Twin Cities Pioneer Press

"Wild Mares is a slow burn of a read that offers an important glimpse into a slice of all-too-recent history. There is power in storytelling, in lifting voices, in showing how we were part of major cultural moments. " —AutoStraddle