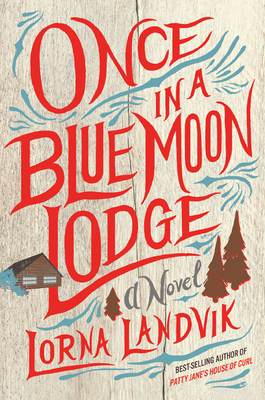 Once in a Blue Moon Lodge
A Novel
Hardcover

* Individual store prices may vary.
Other Editions of This Title:
Paperback (4/17/2018)
Compact Disc (4/18/2017)
Description
Set adrift when her mother sells the salon that has been a neighborhood institution for decades, Nora Rolvaag takes a camping trip, intending to do nothing more than roast marshmallows over an open fire and under a starry sky. Two chance encounters, however, will have enormous consequences, and her getaway turns out to be more of a retreat from her daily life than she ever imagined. But Nora is the do-or-die-trying daughter of Patty Jane, who now must embrace the House of Curl's slogan: "Expect the Unexpected."
With her trademark wit and warmth, Lorna Landvik follows Nora and an ever-growing cast of characters between city and wooded retreat, Minnesota and Norway, a past that's secret and a future that's promising, but uncertain. Responding to a mysterious letter with a Norwegian postmark, Nora's grandmother Ione travels to her native land to tend to a dying cousin and her husband—two people who played a painful, pivotal role in her past. Nora accompanies her and is surprised by her grandmother's long-ago love story—but even more surprised by the beginning of her own.
A book about making new beginnings out of old endings, Once in a Blue Moon Lodge invites readers to check in, set down their baggage, and spend time with the kind of people who understand that while they can't control all that life throws at them, they can at least control how they catch it. And as anyone who has stopped in at Patty Jane's House of Curl will tell you: you're in for a rollicking good time with characters whose strengths, foibles, and choices will have you laughing and crying. Hankerings for coffee and gingerbread cookies may also be experienced.
Praise For Once in a Blue Moon Lodge: A Novel…
"At long last! Patty Jane and her irresistible band of big-hearted merry-makers return to us. Lorna Landvik's humor is wrapped around a core of love, common sense, and good cooking. Pull up an easy chair, pour a glass of wine, and enjoy this grand family reunion."—Faith Sullivan, author of Good Night, Mr. Wodehouse
"Lorna Landvik creates characters and places so warm and real that reading Once in a Blue Moon Lodge feels like coming home (if you're lucky enough to be surrounded by people and places as weird and wonderful as Lorna's—I think I am)."—Nora McInerny, author of It's Okay to Laugh (Crying Is Cool Too)
"There is a charm and warmth to this hopeful tale in which love is the glue that holds people together. Landvik's love for her characters is evident."—Kirkus Reviews
"A people lover's book. This refreshingly simple family tale provides a comfy diversion from the everyday world."—Kirkus Reviews
"Her characters, their gentle humor and world view, feel like home."—Always Packed for Adventure
"The many twists and turns in the story will provide excellent fodder for book-club discussions."—Foreword Reviews
"Landvik's characters are generous and witty. They are big-hearted and inclusive. They inspire others, welcome strangers and appreciate practical things done well."—Star Tribune
"This novel is suffused with love—between parents and children, between spouses or lovers, between people who are unrelated but considered family. There is a gentle humor and good-heartedness in all of Landvik's books, a fondness for her characters that touches the reader."—Pioneer Press
"A book about making new beginnings out of old endings, Once in a Blue Moon Lodge invites readers to check in, set down their baggage and spend time with the kind of people who understand that while they can't control all that life throws at them, they can at least control how they catch it."—Where the Reader Grows
"I fell in love with the characters."—Reviews of Books On My Nightstand
"The ties that bind the family and the truths that come out over time are evident and true to form for what you would expect from a feel-good contemporary novel."—Clues and Reviews
"You'll get caught up in short order, and you'll get wrapped up even faster."—The Bookworm Sez
"With pockets of humor and the lighthearted nature of a small town, this work of fiction will appeal to those who enjoy cozy mysteries."—Green Bay Press-Gazette
Univ Of Minnesota Press, 9781517902698, 312pp.
Publication Date: April 11, 2017
About the Author
Lorna Landvik is the author of eleven novels including the best-selling Patty Jane's House of Curl, Angry Housewives Eating BonBons, Oh My Stars, and most recently Best to Laugh (Minnesota, 2014). She has performed stand-up and improvisational comedy around the country and is also a public speaker, playwright, and actor who gets much pleasure from mixing up margaritas on stage in her one-woman all-improvised show, Party in the Rec Room.
1. Once in a Blue Moon Lodge is a sequel to Patty Jane's House of Curl, although it's not necessary to have read the first book to follow the characters of the second. Have you ever read a sequel you enjoyed more than the book that inspired it?
2. As a senior citizen, Ione is moved to start a group working for social justice called Old Bags for Change. Do you have a particular cause that inspires you to invest time and action?
3. There are several main characters in this book. Whose story resonates most with you and why?
4. Why do you think Ione hid such a big part of her life for so long? Have you ever heard a story or learned a secret about a relative or friend that has surprised or shocked you?
5. Ione describes Berit as not being satisfied with the many gifts she had. Do you think a person like Berit suffers over her own behavior?
6. Nora's heritage is Norwegian and yet the first time she visits Norway is as an adult. Have you, if your ancestors came from another country/countries, visited those places or met distant relatives?
7. Nora escapes to Minnesota's north woods and gets more than the rest and renewal she was seeking. Is there a choice you've made that has altered the course you thought you'd mapped out for yourself?
8. Because of a loyalty she feels toward her deceased husband, Nellie hasn't moved out of the lodge, even though she closes it down for business. Have you ever done something out of loyalty toward
someone that you've regretted? That you've been happy about?
9. Nellie's a real eccentric. Is there someone in your own life who could be described the same way?
10. Why do you think Ione is willing to risk so much to let her son feel what he rarely feels: competent and in control? Describe something your own mother did to support you, or something you've done for a child, your own or someone else's.
11. Silvia takes up Patty Jane's impulsive invitation to leave New Mexico and come to Minnesota. Neither of them imagine that one day they'll be in-laws. Have you ever invited someone to do something and been surprised by the unexpected results?
12. Silvia and Harry find success in making music together. If you could have a dream career with a partner, spouse, or friend, what would it be?
13. Thor and Clyde Chuka are important role models for Harry and Lewis. What do you think each man gives these boys?
14. The creative lives lived by those at the lodge inspire Lewis. How do you fulfill your need to make something?
15. If you were hired to teach a class/seminar at the Blue Moon, what would you teach?
16. When she feels the triplets are old enough to know, Nora tells them the story of their parentage. Do you think she should have told them earlier, later, or not at all? While some people believe secrets are ultimately harmful, others believe they are kept to protect themselves or those they love. What do you think?
17. Age doesn't fall on either Ione or Patty Jane as harshly as it does some of their friends. Who in your life has stayed youthful in mind, body, or spirit and how have they done it?
18. The Once in a Blue Moon Lodge is a sanctuary for its inhabitants. Is there a special place that serves as one for you?
19. Ulla had a strong sense of self and wouldn't allow "Elmer Fudd," her CP, to define who she was. How is it that with her physical challenges, she was more easily able to navigate through life than her sister, Grace?
20. If you could ask the author a question of your own, what would it be?
or
Not Currently Available for Direct Purchase